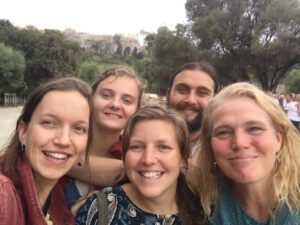 De Agro-Ecology Europe Forum took place last September for the second time. This year the island of Crete was the set destination. From all over Europe, farmers, researchers, policy makers and students gathered to discuss different topics within agro-ecology. This year the focus was on how to mainstream agro-ecology and how to strenghten the movement. Margriet Goris (phd student UFV/WUR and member of AEEU, Toekomstboeren and Cultivate Collective) gave a workshop about agro-ecology and feminism. Louise Vercruysse (coordinator Boerengroep), Eva van Dijk (intern Boerengroep) and Maria-Franca Dekkers (intern Boerengroep) gave a workshop about our Farm Experience Internship. Together with Pablo Van Neste we decided to ditch the airplane and to travel to Crete by car and boat.
Want to know about our experiences?
Pablo wrote a blogpost in Dutch for Toekomstboeren.
We also made a video of our adventures.