[Nederlands hieronder]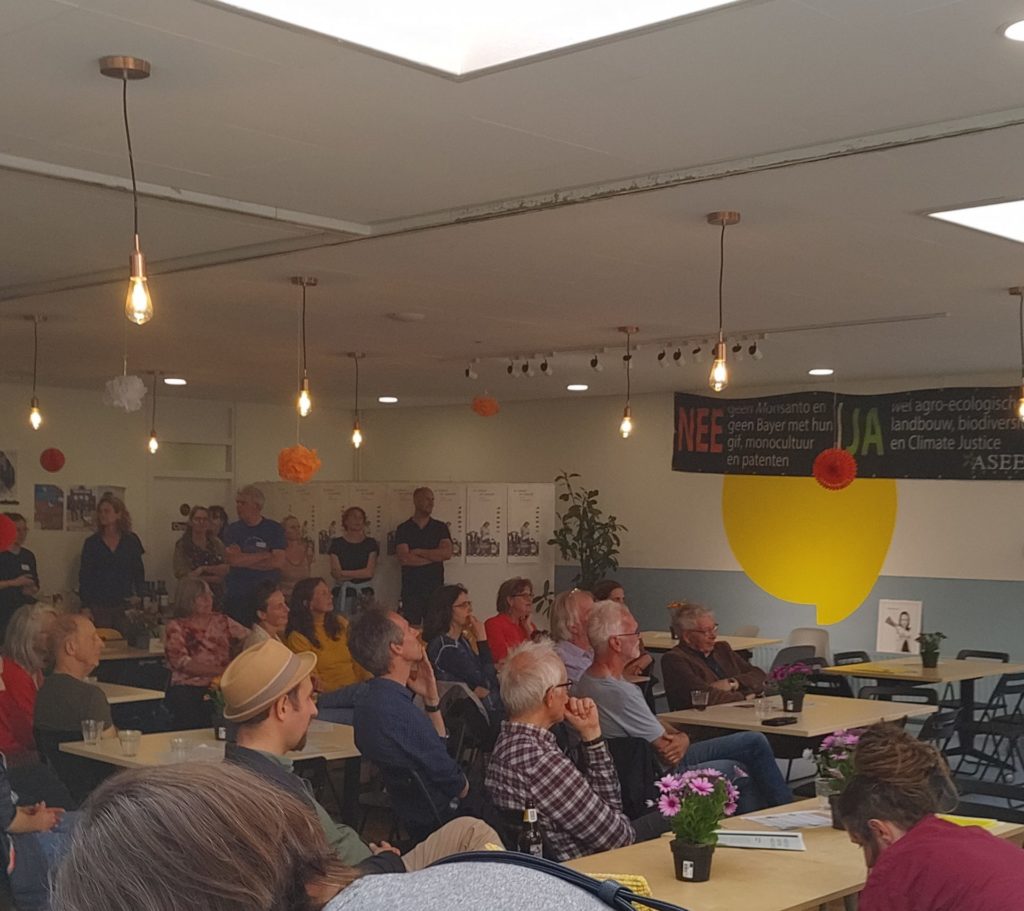 On May 21, the long-anticipated Boerengroep and Inspringtheater 50-year reunion finally took place. Finally, because the anniversary of this organization, which is close to many people's hearts, was set for 2021. Back in 2019, we started thinking about all the great things we could do, but then came – and this is the plot twist in just about every story these days – corona.
This made this get-together even more special. Boerengroep'ers and Boerentoneel/Inspiring Theatre players from each of the past decades came to Wageningen for a fun evening with drinks and delicious food made by Linke Soep.
At the opening of the evening, Boerengroep chair Álvaro set the tone by a beautiful comparison between Boerengroep and an old house where new memories are being made. We know that before us, people have also lived in this house, leaving their mark and shaping the rooms, wallpaper and furniture. But we never know exactly what that was like, and during daily life in the house, we don't even really think about it. In this reunion we would walk through the house and meet the people who built it, who lived it in other times and worlds.
The main ingredient of the evening was the many conversations that spontaneously took place between generations. What was it like to be an activist student in the 70s, 80s or 90s? What about the political consciousness of students today versus in the past? Which farmers did Boerengroep engage with, and how do plays get made?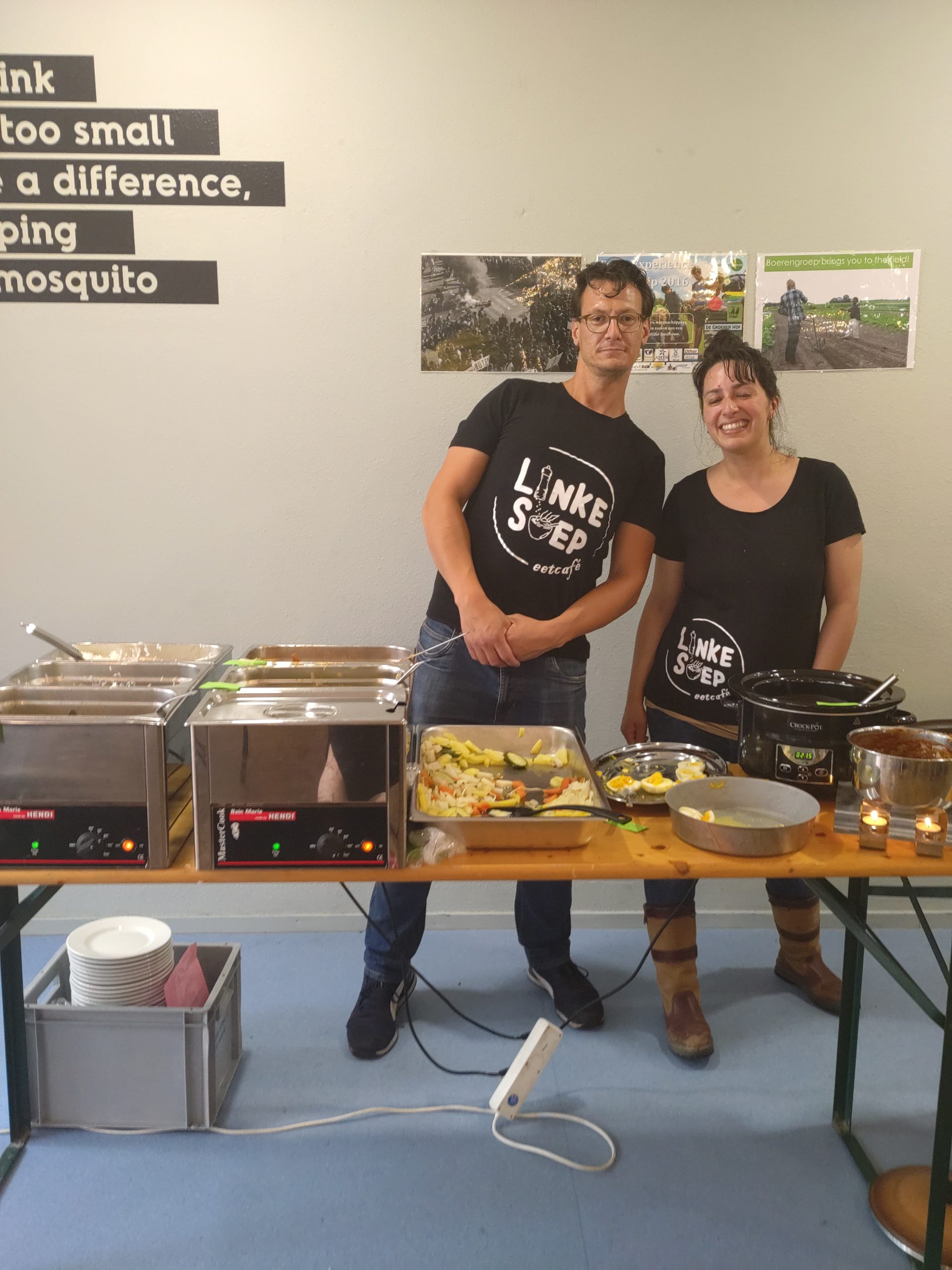 Our wonderful cooks from Linke Soep – featuring former Boerengroep coordinator Patricia Lemmens! 
Because of all our experience in participatory methods, we know how important visual stimuli are and we had put together a picture wall, where people could arrange pictures on a timeline. We had also unearthed other artifacts from the Boerengroep basement, such as original Boerengroep scripts and, of course, a whole pile of Landbouwmaand magazines. This historical material was complemented by the publication of the – also long overdue – Boerengroep 50 Years Magazine.
During dessert we were surprised by an original Boerentoneel song performed by Kris van Koppen and Maarten van der Vliet. Then contemporary Boerengroep legends Yanina and Pablo took over, and they played Boerengroep classics like "we WUR wrong" and "Buy my produce one more time". The faces of former Boerengroep members spoke volumes: it was all good  with the cultural production of the 21st-century Boerengroep.
After the memories were dug up, we were ready for the last part of the evening: an open-mic/story telling session. Anyone who felt like telling an anecdote was called to the cozy stage. With a warm heart, we listened to stories about how the Chilean foreign minister saw Wageningen as a unique place of resistance and critical dialogue, about the farmer who came to the Building with the Clock every week to have coffee with students and discuss agriculture, about how Boerengroep and Inspringtheater responded to current events and went out to the fields as much as possible.
Thank you everyone for your enthusiasm and effort at the Boerengroep and Inspringtheater reunion, and of course throughout the last 50 years. We look forward to the next 50!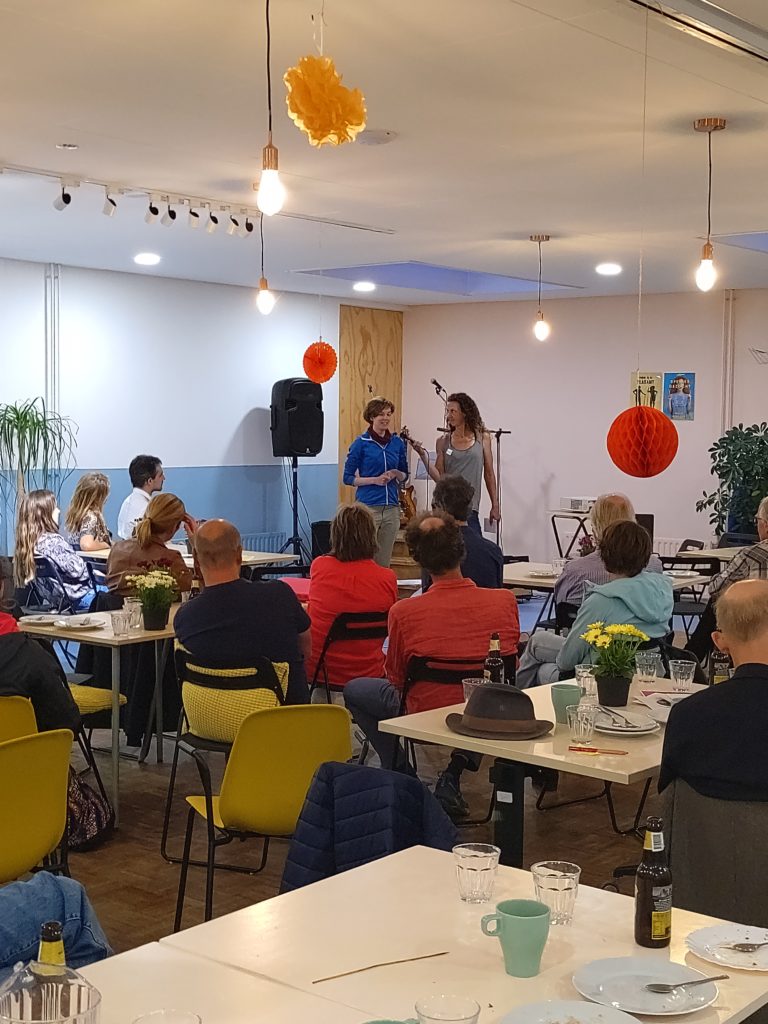 Boerengroep Reünie 2022
Op 21 mei vond eindelijk de lang geanticipeerde Boerengroep 50 jaar reünie plaats. Eindelijk, want de verjaardag van deze organisatie, die velen nauw aan het hart ligt, was voor 2021 bedoeld. Reeds in 2019 begonnen we na te denken over alle grootse dingen die we zouden kunnen doen, maar toen kwam – en dit is de plottwist in zowat elk hedendaags verhaal – corona.
Dit maakte het weerzien nog specialer. Boerengroep'ers en Boerentoneel/Inspringtheater-spelers van elk van de voorbijgaande decennia kwamen naar Wageningen voor een gezellige avond met genoeg drankjes en heerlijk eten gemaakt door Linke Soep.
Bij de opening van de avond, zette Boerengroep voorzitter Álvaro de toon door Boerengroep te vergelijken met een oud huis waar nieuwe herinneringen in gemaakt worden. We weten dat er voor ons ook mensen in dit huis gewoond hebben, die hun stempel hebben achtergelaten en de kamers, het behangpapier en meubilair vormgegeven hebben. Maar we weten nooit precies hoe dat geweest is, en bij het dagelijks leven in het huis, denken we er niet over na. Tijdens deze reünie zouden we door het huis lopen en de mensen ontmoeten die het gebouwd hebben, die het beleefd hebben in andere tijden en werelden.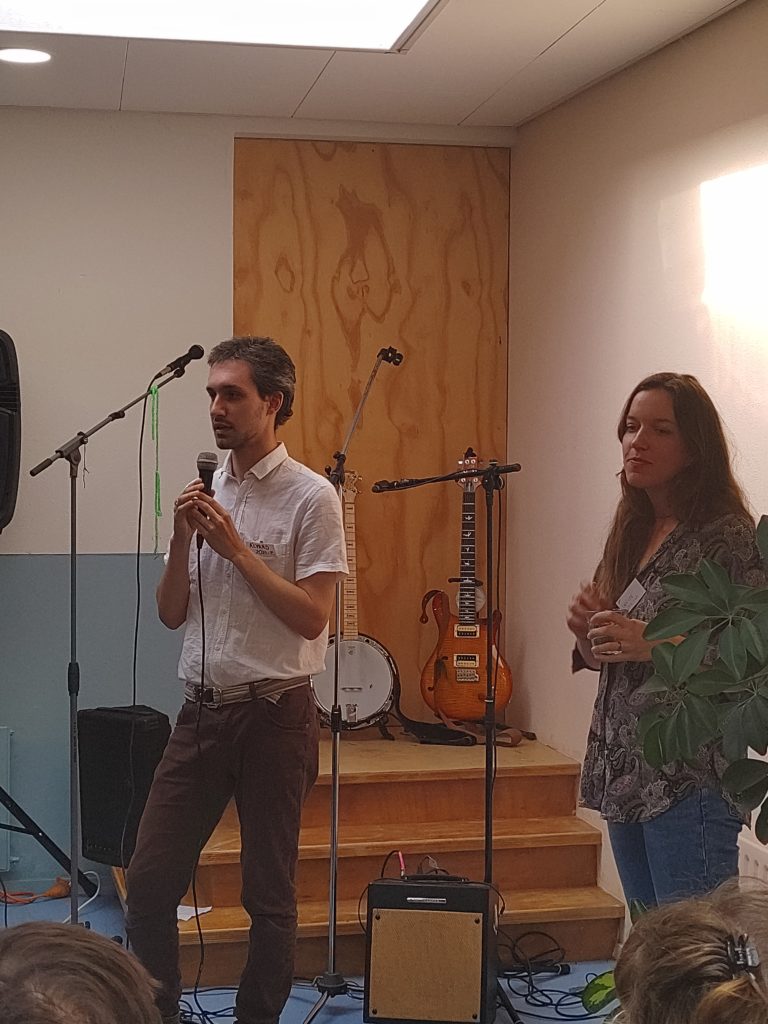 Het hoofdingrediënt van de avond waren de vele gesprekken die spontaan tussen generaties plaatsvonden. Hoe was het om activistische student te zijn in de jaren '70, '80 of '90? Hoe zit het met het politieke bewustzijn van studenten vandaag tegenover vroeger? Met welke boeren ging Boerengroep in gesprek, en hoe werken toneelstukken gemaakt?
Omdat we met alle ervaring in participatieve methodes, weten hoe belangrijk visuele stimuli zijn, hadden we een foto-muur in elkaar gezet, waarbij mensen foto's op een tijdslijn konden ordenen. Ook hadden we andere artefacten uit de Boerengroep kelder opgegraven, zoals originele Boerentoneel scripten en natuurlijk een hele stapel Landbouwmaand. Dit historisch materiaal werd aangevuld met de – eveneens lang-op-zich-laten-wachten – publicatie van het Boerengroep 50 jaar magazine.
Tijdens het dessert kregen we als verrassing een origineel Boerentoneel lied te horen, gespeeld door Kris van Koppen en Maarten van Vliet. Daarna namen hedendaagse Boerengroep legendes Yanina en Pablo het over, en ze speelden Boerengroep-klassiekers als "we WUR wrong" en "Buy my produce one more time". De gezichten van voormalig Boerengroep'ers spraken boekdelen: het zat wel goed met de culturele productie van de 21e -eeuwse Boerengroep.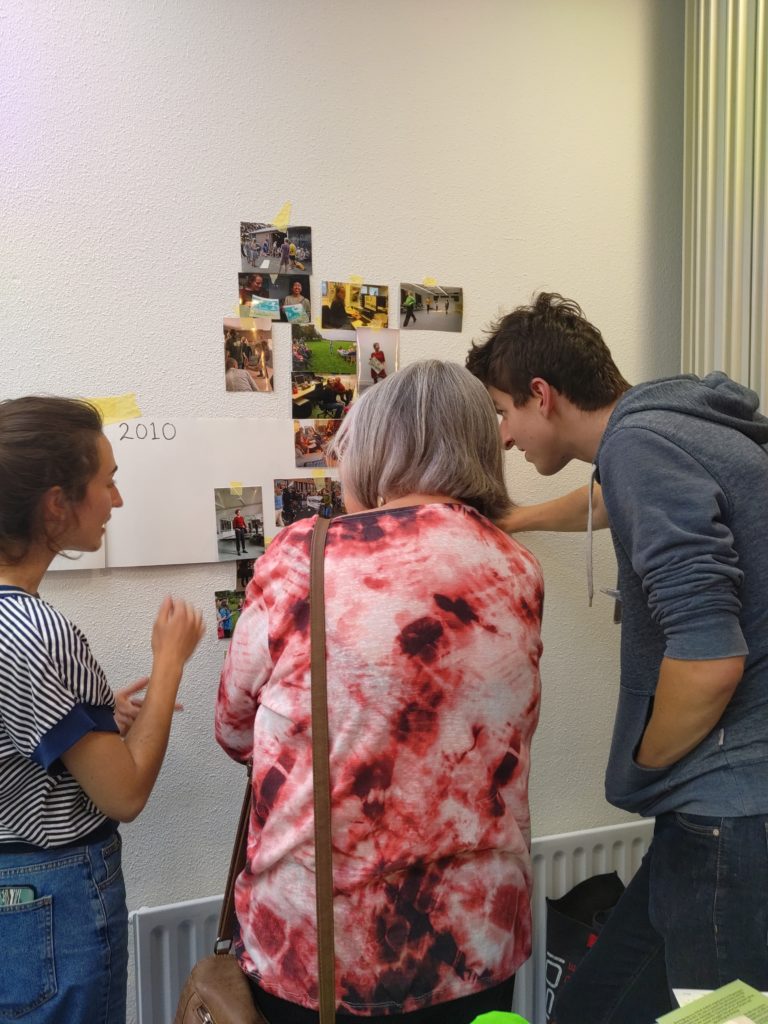 Nadat de herinneringen opgediept waren, waren we klaar voor het laatste deel van de avond: een open-mic/story telling sessie. Iedereen die zin had om een anecdote te vertellen, werd naar het kleine podium geroepen. Zo hoorden we over hoe de Chileense minister van buitenlandse zaken Wageningen als een unieke plaats van verzet en kritisch dialoog, over de boer die elke week naar het Gebouw met de Klok kwam om koffie te drinken en landbouw te bespreken, over hoe Boerengroep en Inspringtheater op de actualiteit insprong.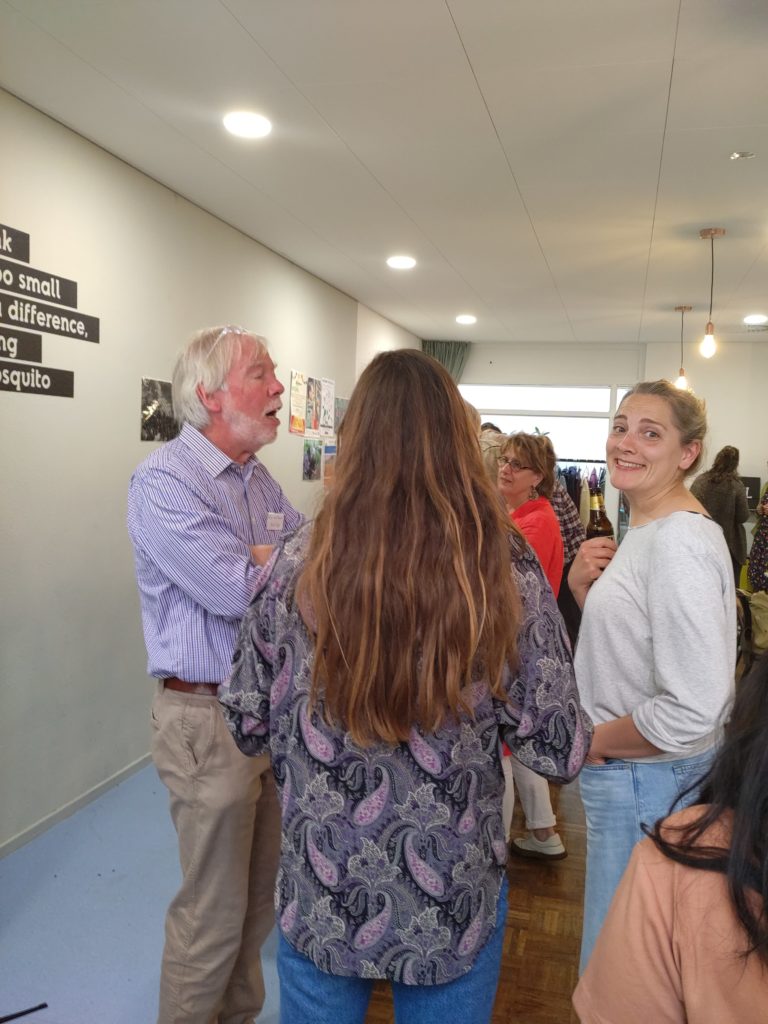 Bedankt iedereen voor het enthousiasme en inzet op de Boerengroep reünie, en natuurlijk ook doorheen de laatste 50 jaar. We kijken uit naar de volgende 50!