The world's first "Earthship district" is currently constructed in the Netherlands.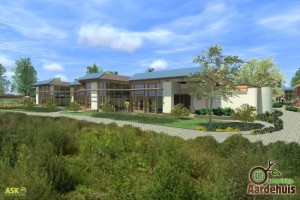 The earthship concept is a prime example of environmentally friendly and sustainable building and living.
All environmental aspects are taken into consideration in this innovative yet simple (low tech) building concept. The reuse of existing materials in the construction phase as well as clean energy usage with zero or near-zero CO2 emissions, minimizes environmental impact. more about the project
On this evening in Wageningen, we will hear what it means to set up such an Earthship community: what are the technical challenges, the spatial-economic challenges, not to mention the social challenges… Next to
the experiences in Olst we will also discuss similar Ecovillage experiences elsewhere.
With:
Estella Franssen – Board of Earthship Association Olst
Janneke Tops – Healthy Garden and Velt, Association for ecological living and gardening
Fedde Jorritsma – TWIST, the turning wheel: education for sustainable living

What: informal lecture/discussion evening
When: Friday May 17 at 19:30
Where: Forum building, room C103
Organisation: WEP, Aktief Slip, Boerengroep, Otherwise
…
This evening is part of Wetenschap vanaf onderop