On June 10th from 10:00 – 12:00, Voedsel Anders and Boerengroep are organising a cycling excursion to local farmers and food initiatives around Wageningen, where we will spend 20-30 minutes per initiative understanding how each of them contribute to an alternative system for food and agriculture. After the excursions, a local and sustainable lunch will be served for participants by Vreemde Streken at 12.30. Sign up for one of the excursions here.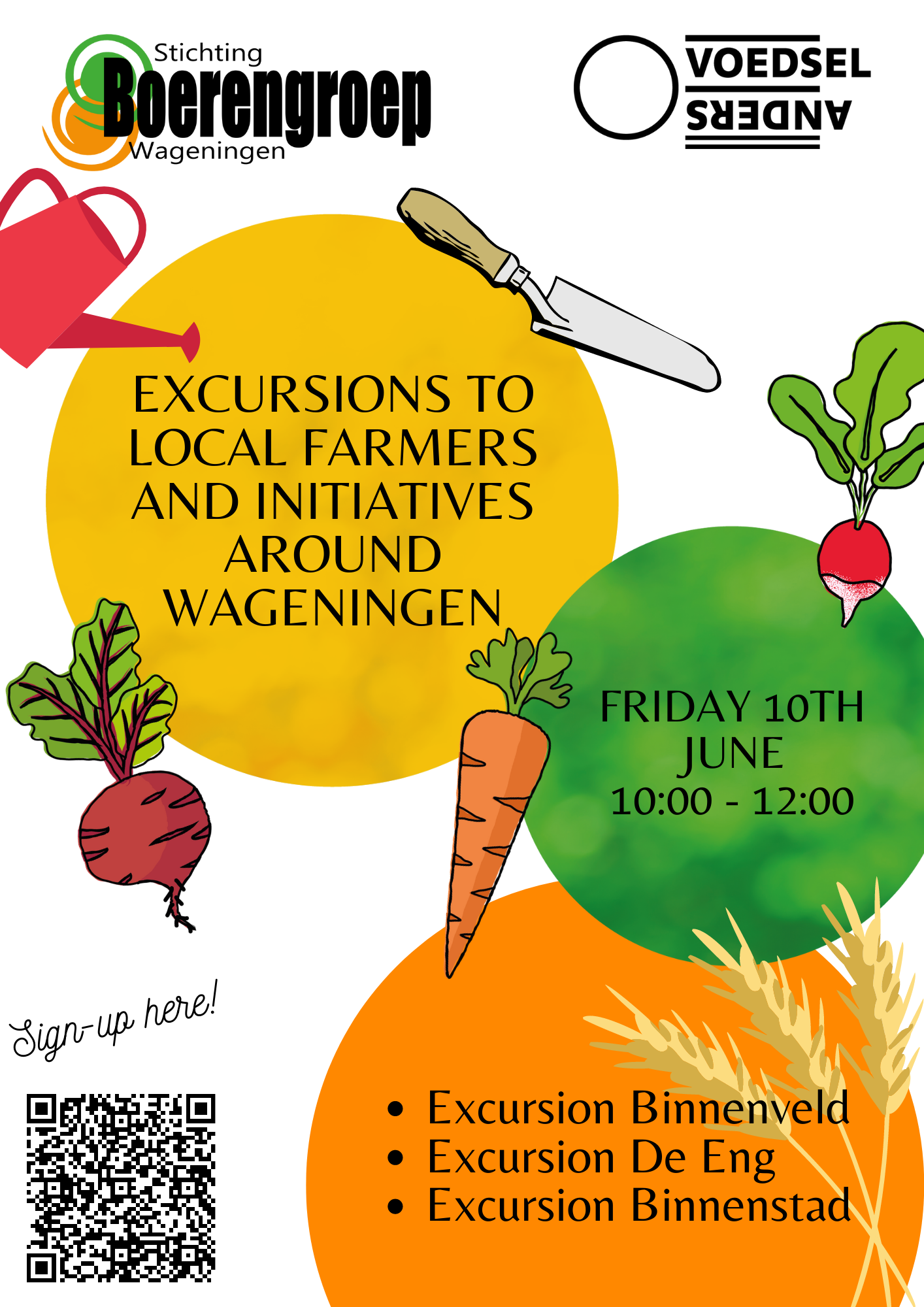 Excursie Binnenveld: 
Het Binnenveld is ontstaan in de laatste Ijstijd, toen een gletsjer over dit deel van Nederland schoof en een dal maakte, met de Veluwe en de Utrechtse Heuvelrug aan beide zijden. Op de natte gebieden onstond een veenbodem, die sindsdien deels is afgegraven. Het gebied wordt gekenmerkt met veel kwelwater en hoge grondwaterstanden. In het gebied zijn een groot aantal alternatieve vormen van landbouw te vinden, waarvan een aantal gekoppeld aan de universiteit.
Excursion Binnenveld:
The Binnenveld was created in the last Ice Age, when a glacier slid across this part of the Netherlands and made a valley, with the Veluwe and the Utrechtse Heuvelrug on either side. On the wet areas a peat soil arose, which has since been partly excavated. The area is characterized with a lot of seepage water and high groundwater levels. A large number of alternative forms of agriculture can be found in the area, some of them linked to the university.
Excursie De Eng:
De Wageningse Eng ligt tussen de bebouwde kom van Wageningen en Bennekom en wordt aan de oostkant begrenst door de Veluwe. De Eng is een eeuwenoud cultuurlandschap en is een gebied dat van oudsher al gebruikt is voor de landbouw. Vroeger werd hier veel rogge en aardappels verbouwd. Tegenwoordig biedt de Eng ruimte aan veel volkstuinen, tuinderijen, paarden en oude graanvelden. 
Excursion De Eng:
Wageningse Eng is located between the built-up areas of Wageningen and Bennekom and is bordered on the east side by the Veluwe. De Eng is an ancient cultural landscape and is an area that has traditionally been used for agriculture. Mostly, rye and potatoes used to be grown here. Nowadays the Eng is home to many allotments, self harvest gardens, horses and old grain fields. 
Excursie Binnenstad: 
In de binnenstad van Wageningen zijn een groot aantal initiatieven die gerelateerd zijn aan duurzame voedselproductie en alternatieve relaties rondom voedsel. Bij deze excursie krijg je een kijkje in de diversiteit aan ondernemingen die deel zijn van een alternatieve voedseleconomie in het hart van Wageningen. 
Excursion Inner City:
In downtown Wageningen there are a large number of initiatives related to sustainable food production and alternative relationships around food. On this excursion you will get a glimpse of the diversity of businesses that are part of an alternative food economy in the heart of Wageningen.