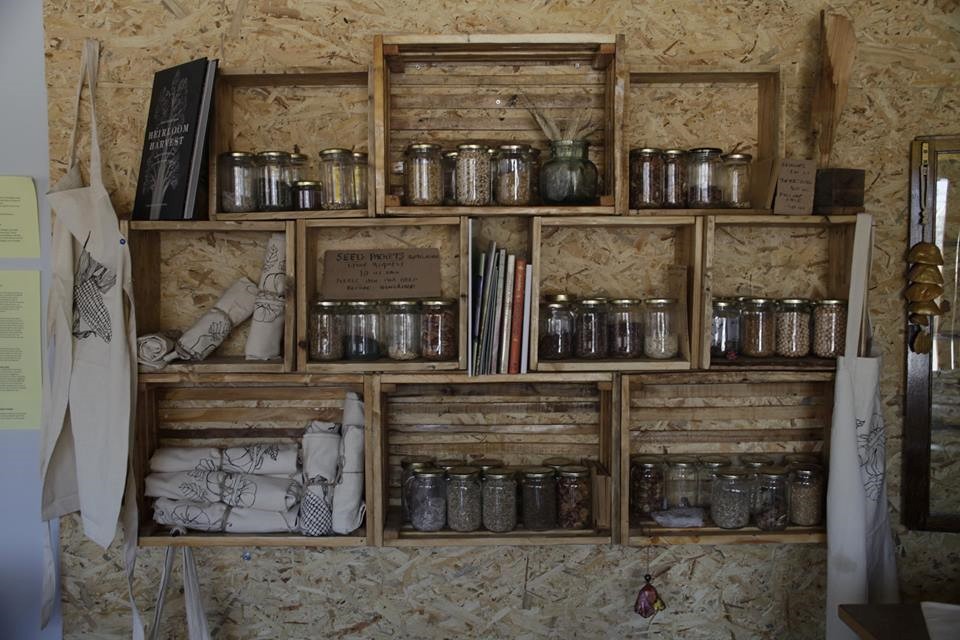 El Beir Arts and Seeds, Beit Sahour, Bethlehem, Palestine.
A report by Boerengroep, 2017.
As part of a permaculture design course in the hills surrounding Ramallah, hosted by the Mostadam Eco-Design from Palestine, the organisation Byspokes from Britain and the UK Permaculture Association, we went on a field trip to Beit Sahour, a village connected to Bethlehem. The area of Beit Sahour is home to many artists, activists, and foreigners which creates a lively atmosphere. We visited a seed library and arts centre El Beir, which can be translated from Arabic to the well. Vivian Sansour and her partner are the founders of this project and welcomed us on the old square of Beit Sahour. Pots of sage, rosemary and mint are scattered in front of the shop. Inside Palestinian arts and handcrafted products of all kind are collected. Paintings, furniture of recycled materials, postcards, soaps, bags, and aprons. In one corner, the seed library shows a range of indigenous seeds of Palestine collected by Ms Sansour herself. As a Palestinian agriculturalist she collects seed varieties that have been used for many generations by the Palestinian farmers, with the aim of preserving those seeds. While introducing the project to us she explained the importance of indigenous and ancient seeds in the Palestinian context. The following article is a summary of her story and a glimpse into the story of seeds in Palestine. One that needs to be told and recounted, because seeds equal freedom.
Seed varieties throughout the world are thousands of years old, thanks to our ancestors. Year after year they selected the seeds of their best crops, dried, saved, exchanged, and sowed them in their fields. In our world today the global food system relies on a very limited number of varieties of wheat, corn, legumes, vegetables and fruits. This means that ancient and indigenous varieties of many crops are in danger of extinction and cultural amnesia in countries throughout the world, including Palestine. A telling example which Ms Sansour gave; bananas. The bananas of the common variety are all clones of each other, which means they do not produce seeds anymore. Due to the fact that this variety of banana is produced in massive numbers and there is barely any variety, the monoculture crop is now threatened by fungi's and can therefore go extinct. This is a faith many varieties of crops are condemned to throughout the world.
The seed library El Beir in the old town of Beit Sahour collects and saves seeds from crop species that are going extinct. The aim of the project is to spread those varieties again among farmers and growers in order to preserve traditional forms of agriculture and also educate young Palestinians about their cultural heritage. Local growers can come to the seed bank to collect seeds and sow them, returning a share of the cultivated seeds the following year. Ms Sansour tells us stories about the difficulties she encounters in finding the seeds, while hunting after them, as she describes it tellingly. An example of varieties she has recaptured are the Jadu'i watermelon, a rare type of melon which used to be widely grown in the fertile grounds of Jenin in the North of what is nowadays called the West Bank. Today this species is nowhere to be found. Going from village to village, talking to farmers, elders, and women she traces back into memories of forgotten varieties of vegetables and fruits in Palestinian culture, such as the Jadu'I watermelon. Ms Sansour describes that elders recounted how big the melon used to grow, how women even gave birth in those melon fields. Sometimes it is easy to find a variety, often it is not. She explains; 'Often the elders tell me certain crops are lost, that I will not be able to find them anywhere. This is what motivates me even more to continue the search for those seeds.' Finally, a few old seeds of this type of melon have been found and sown by Ms Sansour in order to propagate and spread them among Palestinian growers. The search for this variety of watermelon illustrates how stories and culture are entrenched with farming traditions. It also elucidates the importance of recounting these stories as one way to defend Palestinian cultural heritage and resist tangible and intangible occupation.
As part of the project Ms Sansour and her partner are planning to cook the heirloom crops for local communities in their mobile kitchen. The idea is to travel around with the kitchen to villages and towns, preparing the traditional foods and discussing the importance of ancient seeds, food sovereignty, and the food culture of Palestine. Ms Sansour hopes that in this way she can motivate people to grow old varieties again of legumes, squash, greens, zucchini, and many other crops. Moreover, the project focusses on working with women in Palestinian villages and communities by supporting them in starting and maintaining their own home gardens of indigenous crops. For the women involved the economic benefit is a primary motivation to grow their own food, explained Ms Sansour. By saving on money for vegetables and fruits, more income remains available for other household necessities such as clothes, school fees, and maintenance. She further explains how nostalgia is an important incentive for participation. Many women involved in the project carry memories from their childhood before the occupation, when growing one's own food was more commonly practiced than it is today. This is another way in which the women are motivated to start growing their own vegetables, herbs and fruits again.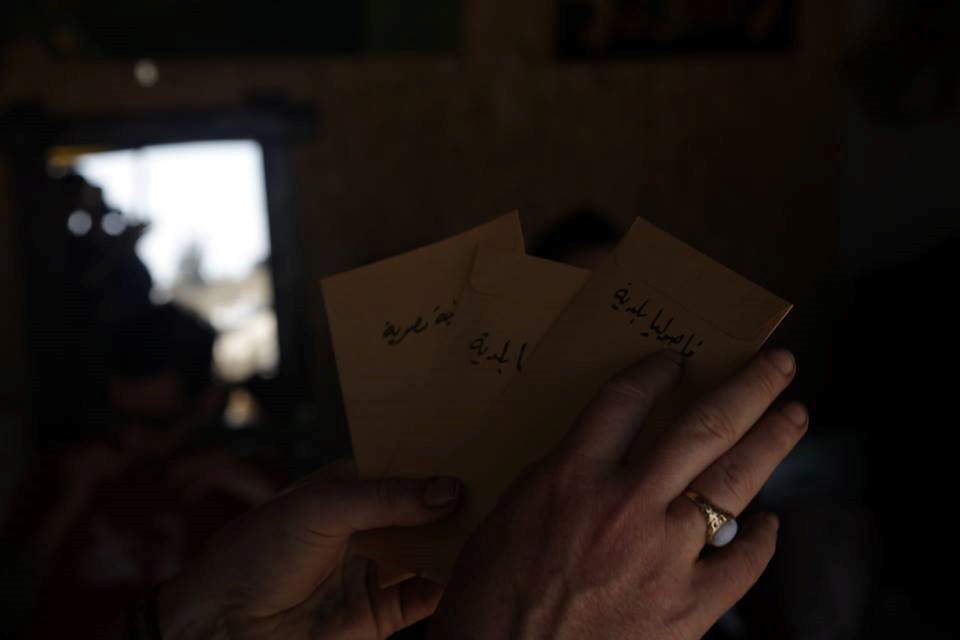 We touched upon an unavoidable topic during the conversation; the presence of the agro-chemical multinational Monsanto. They have found their way into the Middle East, with currently one office in Amman, Jordan, and another in Tel Aviv, Israel. Vivian explains that Palestinian markets are flooded with GMO crops. This is mainly due to the fact that the occupation by Israel does not only concern land, water and politics; the agricultural sector is one major way in which Israel tries to control Palestine and its people. Often the agricultural surplus of Israel is being dumped in the West Bank and Gaza and sold for very low prices; a phenomenon which makes it almost impossible for the Palestinian farmer to sell their produce above the cost price and earn a decent living. Sadly this is a common strategy applied by 'developed' countries all over the world.
The Israeli occupation of Palestine has, apart from all its violence and expropriation, a huge impact on the agricultural sector and farmers of the country. Among many of its crimes against the people of Palestine, the Israeli occupation restricts water supplies to Palestinian farms. Also, the Israeli settlements built in Palestinian territories intrude on traditional agricultural plots. The Nakba of 1948 expelled about 700.000 Palestinians from their homes and over 400 villages were destroyed. Many of whom have not been able to return home ever since and reside in camps throughout the regions of Palestine now referred to as the West Bank and Gaza. Subsequently, the Israeli military occupation has been a fact since 1967. Ms Sansour explains how the Zionist movement (the national movement of Jewish people which support the establishment of a Jewish state in the 'Holy Land' known as Palestine) took most traditional seeds from Palestinian farmers and spread monocultures instead. During the 1970's this tendency was becoming more and more common, which resulted in the fact that nowadays around 80% of the Palestinian farmers get their agricultural inputs from Israel. Farmers being forced to start using foreign inputs, chemicals and toxins, expropriation of land and water is not an exception to the Israeli Palestinian conflict; it happens all around the world. In the Palestinian context one can observe that Israel is trying to uproot a nation, but mainly those who work and are connected to the land; the farmers.
Lastly, Vivian Sansour underlined the fact that today's global market endangers the creative, autonomous farmers who produce their own seeds and regenerate their soils. These farmers are feared the most by the status quo, they are the most dangerous revolutionaries. Grasping this was not hard when she reminded us of a vital fact; 'seeds are freedom, it is life giving birth to itself over and over again.'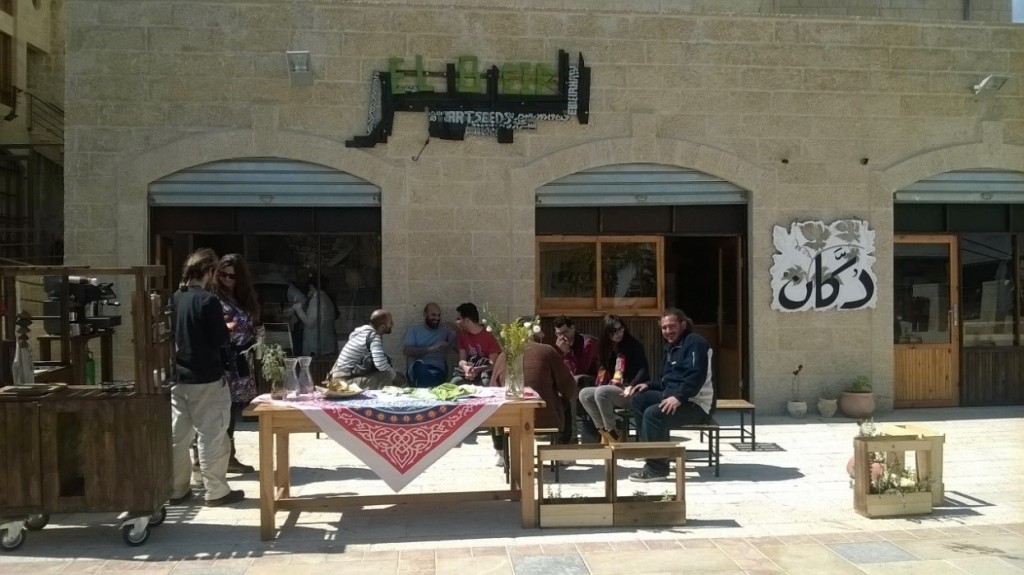 Inform yourself on the situation of Palestine, its farmers and resistance: