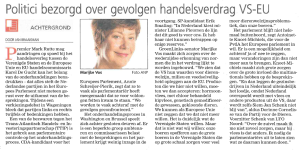 Voor een uitgebreid verslag van de avond lees: 
Verslag-EU-verkiezingsdebat-Wageningen
Het EU verkiezingsdebat staat in de Boerderij Vandaag! (zie plaatje hiernaast)
Het debat is terug te kijken via you tube
Deze avond zullen we samen met kandidaten voor het Europees Parlement en vertegenwoordigers van boeren- en maatschappelijke organisaties een debat houden over het Europese landbouw- en handelsbeleid (op gebied van voedsel). Met speciale aandacht voor de huidige TTIP-onderhandelingen tussen de EU en de VS, en de landbouwparagraaf van the Alternative Trade Mandate (ATM).
De Transatlantic Trade and Investment Partnership (TTIP) is een vrijhandelsverdrag, met als doel 'handelsbarrières' te verwijderen tussen de EU en de VS. Dit betreft onder andere importtarieven en sociale- en milieuwetgeving. Ook wil men de belangen van multinationale investeerders beschermen tegenover nationale lidstaten.
De ATM is opgesteld door een Europees breed platform van maatschappelijke – en boerenorganisaties en vakbonden. Het biedt een alternatief voor het huidige het Europese handelsbeleid, waarbij de belangen van de aarde en de mensen die erop leven prevaleren boven die van 'big business'.
Sprekers: Jan Huitema (VVD), Eric Smaling (SP), Annie Schreijer (CDA), Leon Meijer (ChristenUnie), Marijke Vos (GroenLinks), Corinne Cornelissen (Partij voor de Dieren), Paul Sneijder (PvdA, onder voorbehoud), Sieta van Keimpema (Dutch Dairymen Board en European Milk Board), Klaas Johan Osinga (LTO Nederland), Burghard Ilge (Both Ends, onder voorbehoud), en Guus Geurts (o.a. XminY).
Gespreksleider: Hanny van Geel (La Via Campesina)
Programma:
19.30 Welkom
19.35 Start ronde 1: Analyse van het huidige landbouw- en handelsbeleid
20.45 pauze
21.00 Start ronde 2: Alternatieven
22.15 Afsluiting
22.20 Borrel
Locatie: Forum Gebouw, Wageningen Universiteit C222.
Dit debat wordt georganiseerd door Stichting Otherwise, Boerengroep Wageningen, ILEIA, Platform Aarde Boer Consument en XminY.
Meer info: www.alternativetrademandate.org en het Nederlandstalige alternatief is te downloaden via www.alternativetrademandate.org/wp-content/uploads/2014/02/Time_for_a_new_vision-NL-PRINT.pdf