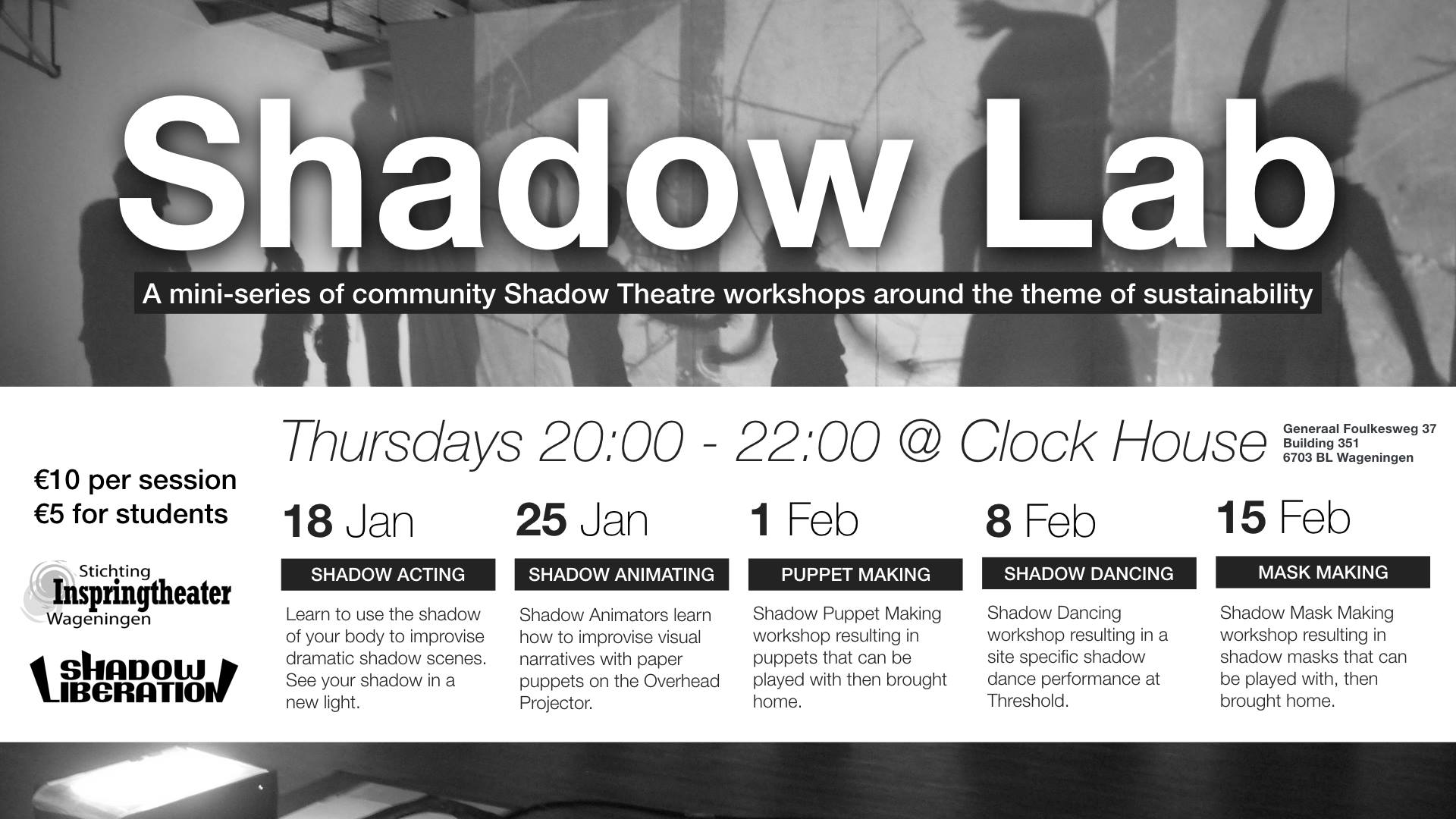 Stichting Het Inspringtheater and Shadow Liberation join forces to present a mini-series of community Shadow Theatre workshops exploring the theme of sustainability. You may come for all the sessions, or just drop in for one. No prior theatre experience is required. Sessions will be conducted in English, though shadows speak louder than words.
You can sign in, mail to st.inspringtheater@wur.nl
Facilitated by Evan Hastings
Evan has a passion for turning pain into medicine through theatre. His work illuminates the intersection of Drama Therapy and Theatre of the Oppressed, creating performative engagements that raise urgent issues in aesthetic dialogue. Evan has had the honour of animating theatrical dialogue f
…
rom the fault lines of war zones to the halls of Harvard, from working with prisoners in high security facilities to engaging families through open air performances in public spaces. Theatre is an at of Love.
About Shadow Liberation
Shadow Liberation uses creatively crafted visual stories to captivate the imagination and invite audiences to interrupt the injustice of gender violence. In the tradition of Augusto Boal's Forum Theatre, audience members are invited on stage to offer improvisational interventions into scenes depicting oppression. This artistic dialogue offers no quick fix solutions but rather places faith in the emerging ethics of the community to creatively address its issues.
http://shadowliberation.com/
About Stichting Het Inspringtheater
Het Inspringtheater verbindt mensen met elkaar via forumtheater: een vorm van theater waarin mensen uit het publiek deel kunnen nemen door in te springen. Mensen uit het publiek krijgen zo de kans om na te denken over een situatie waar zij mee te maken hebben, of om deze actief te veranderen. Het Inspringtheater draagt altijd net datgene bij wat de situatie kan gebruiken; verdieping, luchtigheid, openheid en humor.
Practical information: 
DATES: The mini-series takes place on five thursday evenings. 18th, 25th of January, 1st, 8th and 15th of February.
LOCATION: Clock House (Generaal Foulkesweg 37)
COSTS: €10,- per evening for non-studentens & €5,- per evening for students
TO SUBSCRIBE: Email to st.inspringtheater@wur.nl