Who we are
Since 1971, Stichting Boerengroep (Peasants/farmers Foundation) aims to connect the university (students, research, education) with the reality and challenges of farmers and peasants in the Netherlands and worldwide. "The education at the university was very theoretical and moreover it often gave a wrong impression of the reality of farmers and peasants" – Jan Douwe van der Ploeg, one of the founders of the Boerengroep. Therefore de Boerengroep started to conduct interviews with farmers. These interviews were then taken into the university where researchers were questioned and stimulated to conduct research on the true needs of the farmers in reality. In 1971, a massive demonstration took place. Half a million farmers were on the Streets to protest against the low prices – the Boerengroep was there to support them. Until the moment of today, de Boerengroep is still fighting for social, just and sustainable food production. We do this by bringing students into the fields and farmers into lecture rooms at the university.
Big demonstration by farmers and peasants, 1971.
We work together with chairgroups at the Wageningen University, like Rural Sociology Group (RSO) and Farming Systems Ecology (FSE), with organisations, like Cultivate, ASEED, Milieudefensie and Toekomstboeren, with foundations like St. Otherwise and RUW, with International research and advocacy institutes, like TNI, with international human rights organizations, like FIAN, and Educational Institutes like VHL and Warmonderhof. We work closely together with farmers unions, since we are part of platform Aarde Boer Consument (ABC, 'Earth Farmer Consumer'). Moreover, we work together with students and PhDers of the Wageningen University, supporting and encouraging them to organize activities they find important to address, e.g. a symposium or movie screening;
We are supervising on average 2 interns with Boerengroep, so that students have a place to work on topics they find important to share with others, while gaining work experience, broadening their professional network and having the informative opportunity within an international organization with over 40 years of experience. Moreover, we are actively involved in offering thesis topics to students, that are related to agriculture related challenges of the realities that peasants, farmers, gardeners and indigenous communities face.
Together we organise:
critical discussions and lectures about agricultural topics, both practical topics as well as political debates related to food production
capita selecta courses at the Wageningen University, like the Farm Experience Internship
field trips to farms throughout the Netherlands
excursions and exchange programs abroad, like a Permaculture Trip to the UK and a EU Youth Exchange in Romania
research mediation between university (researchers, students, education) and the needs of farmers in the Netherlands. Boerengroep stimulates farmers to provide us with research questions and their challenges. We can then find students who can work on this as their internship or thesis.
Working Groups. Together with the RSO chairgroup we stimulate students to organise events of their own interest, related to farming. Currently we are discussing with RSO to turn this into a capita selecta for which students can obtain credits.
conferences, like Voedsel Anders
markets, like Reclaim the Seeds
interviews with farmers. In cooperation with Toekomstboeren, Boerengroep members often go to the field to conduct interviews with farmers on topics like access to land, innovative ways of farming, agroecological approaches etc.
interactive theatre, 'Inspringtheater', which is an important part of St. Boerengroep. The Inspringtheater provides students a critical view on developments in agriculture in an interactive form of theatre.
Boerengroep aims to:
Approach agricultural topics from different angles: connecting social science with natural science; academic theories with practical challenges and innovations.
Highlight the (im)possibilities  and challenges that farmers face
Create understanding for diversity of opinions and stimulate a critical attitude towards your own position
Stimulate transparency of the food production chain to support a critical attitude of consumers, farmers, researchers and students
Realize fair and vital agriculture by:

visualizing the situation of farmers today and in the future through knowledge exchange amongst farmers, students, consumers, and professionals
improving the position of the farmer.

Inform, experience, discuss, facilitate, publish, and activate in order to shed light on present-day issues in agriculture.  This way, Boerengroep and Jump-in Theather wish to stimulate a critical attitude towards agriculture and food.
Get involved as volunteer or intern!
Are you a students at the WUR and would like to gain practical skills and knowledge on organising events related to food production? Would you like to set up a documentary evening, working group, organise an excursion, WWOOF weekend, or a Farm Experience Internship at a university in your own country? Let us know and we'll help you with the organisation, provide you with a network of organisations, farmers, foundations and researchers. Feel free to send us a mail or pass by at the office.
Stichting Boerengroep
Generaal Foulkesweg 37,
k2015, 6703 BL Wageningen
0031 (0)6 83789840
st.boerengroep@wur.nl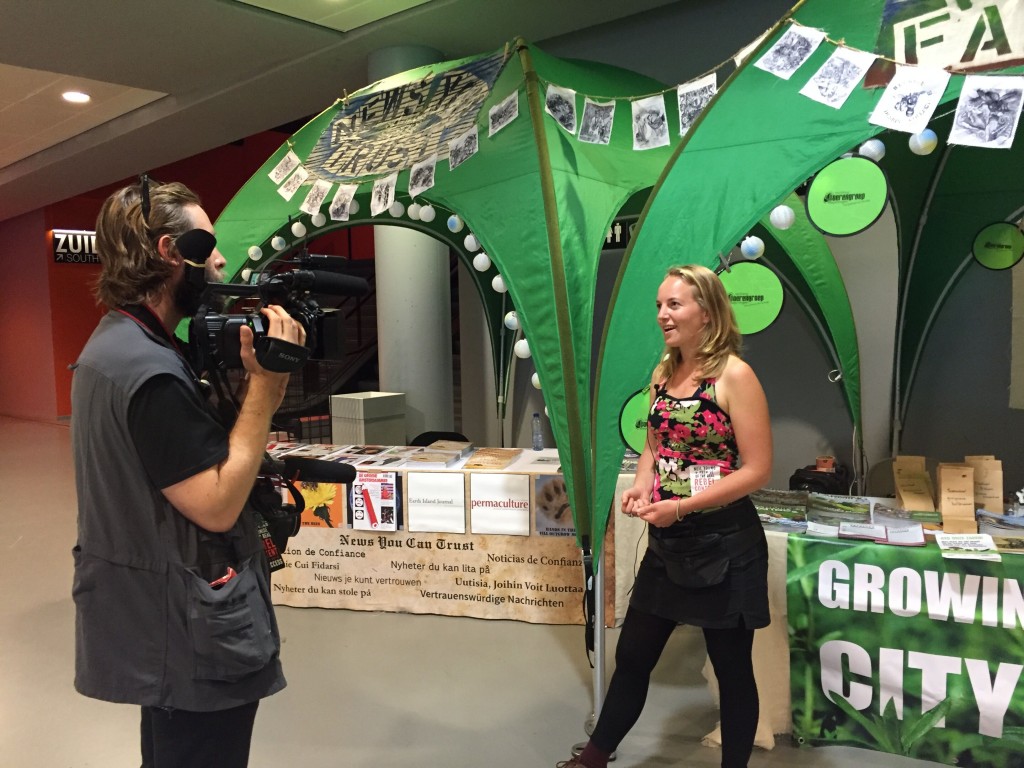 Boerengroep at the Activist Village of Neil Young, during his tour 'The Monsanto Years', July 9th 2016, ZiggoDome Amsterdam.
======= NEDERLANDS =======
Boerengroep
Stichting Boerengroep slaat een brug tussen de landbouwpraktijk en de landbouwtheorie, ofwel tussen boer en student. Met uitdagende, creatieve en prikkelende activiteiten wil de Boerengroep een bijdrage leveren aan de praktische en academische vorming van studenten. Boerengroep werkt samen met leerstoelgroepen aan de WUR, zoals de Rural Sociology Group (RSO) and Farming Systems Ecology (FSE), met organisaties, zoals St. Otherwise, RUW, WEP and Toekomstboeren en onderwijsinstellingen zoals VHL en Stoas Wageningen. Daarnaast faciliteren we kritische discussies en strijden we voor een gezonde en sociale landbouw. Dit doen we door het organiseren van:
capita selecta's op de Wageningen University, zoals de Farm Experience Internship
excursies naar het buitenland, zoals de permacultuur trip naar Engeland en de EU Youth Exchange in Roemenië
excursies naar boerderijen in Nederland
lezingen (o.a. over agroecologie, TTIP, Landbouw Verkiezings Debat, 'Food for All' etc.)
conferenties, zoals Voedsel Ander
praktijkdagen
vraaggestuurd onderzoek: wij stimuleren boeren om onderzoeksvragen aan ons door te geven – wij zoeken dan studenten die hiermee aan de slag willen tijdens de thesis of stage
interactief theater. Een actief onderdeel van de stichting Boerengroep is het "Inspringtheater" dat actuele maatschappelijke (landbouw-) thema's aansnijdt door middel van interactief theatre
De Boerengroep streeft ernaar om:
Landbouw onderwerpen vanuit meerder kanten te belichten om een gefundeerde mening te vormen en stimuleren
Begrip voor keuzes van de ander te vergroten en een kritische houding tegenover eigen standpunt of rol te stimuleren
Keuzemogelijkheden van boeren inzichtelijk te maken
Transparantie en openheid van de voedselketen te stimuleren zodat het oordeel van boeren en consumenten kritischer en beter gefundeerd wordt
Vitale en faire landbouw te helpen realiseren door:

De situatie van de boer van nu en in de toekomst in beeld brengen door boeren en andere professionals en kennisuitwisseling te stimuleren
Via consumenten de positie van de boer verbeteren. Een voorbeeld hiervan is de eat-in en regionale boerenmarkt, waar consumenten in direct contact met hun voedselproducenten komen

Actuele onderwerpen en problemen in de landbouw aan het licht te brengen door: informeren, ervaren, bediscussiëren, faciliteren, actie, publiceren. Hiermee willen Boerengroep en Inspringtheater een kritische houding stimuleren
Help ons mee als vrijwilliger of stagiair!
Heb jij een goed idee voor een lezing, een filmavond of excursie? Wil je een werkgroep starten omtrent WWOOFen in Nederland? Wil je stage lopen bij Boerengroep en ons helpen in onze strijd voor gezonde en sociale voedselproductie? Stuur ons een mailtje of kom langs bij ons op kantoor!
Wij bieden je de mogelijkheid om samen met een of meer bestuursleden of de coördinator een activiteit, publicatie, of onderzoek te starten dat ligt in de lijn van de Boerengroep. Ook als je ideeën of feedback hebt, of iets dat onder de aandacht gebracht moet worden bij de Boerengroep, horen wij dat graag!
Farmers' Tales 
Een aantal keer per maand tijdens de lunch (12:30-13:15) houdt de Boerengroep een lunch break – 'Farmers Tales' – . Tijdens Farmers Tales bieden we de ruimte om informeel bij te praten over belangrijke onderwerpen omtrent duurzame voedselproductie. We laten een film zien, hebben een spreker of delen samen onze kennis, ervaringen, ideeen en passies. Neem je lunch mee en kom langs voor een kop koffie of thee: studenten, onderzoekers, PhDers, boeren, activisten – iedereen met interesse in eerlijke, duurzame voedselproductie is welkom! Ben je opzoek naar een stage of thesis? Kom langs en wieweet kunnen we je in contact brengen met onderzoekers, organisaties of boeren!
Stichting Boerengroep
Generaal Foulkesweg 37,
k2015, 6703 BL Wageningen
0031 (0)6 37 53 0921
st.boerengroep@wur.nl