Map Unavailable
Date/Time
Date(s) - 12/05/2021
20:00 - 21:30
Categories
Here is the Zoom link: Join Zoom Meeting
https://us02web.zoom.us/j/82086734049
For questions/info, please send an email to st.boerengroep@wur.nl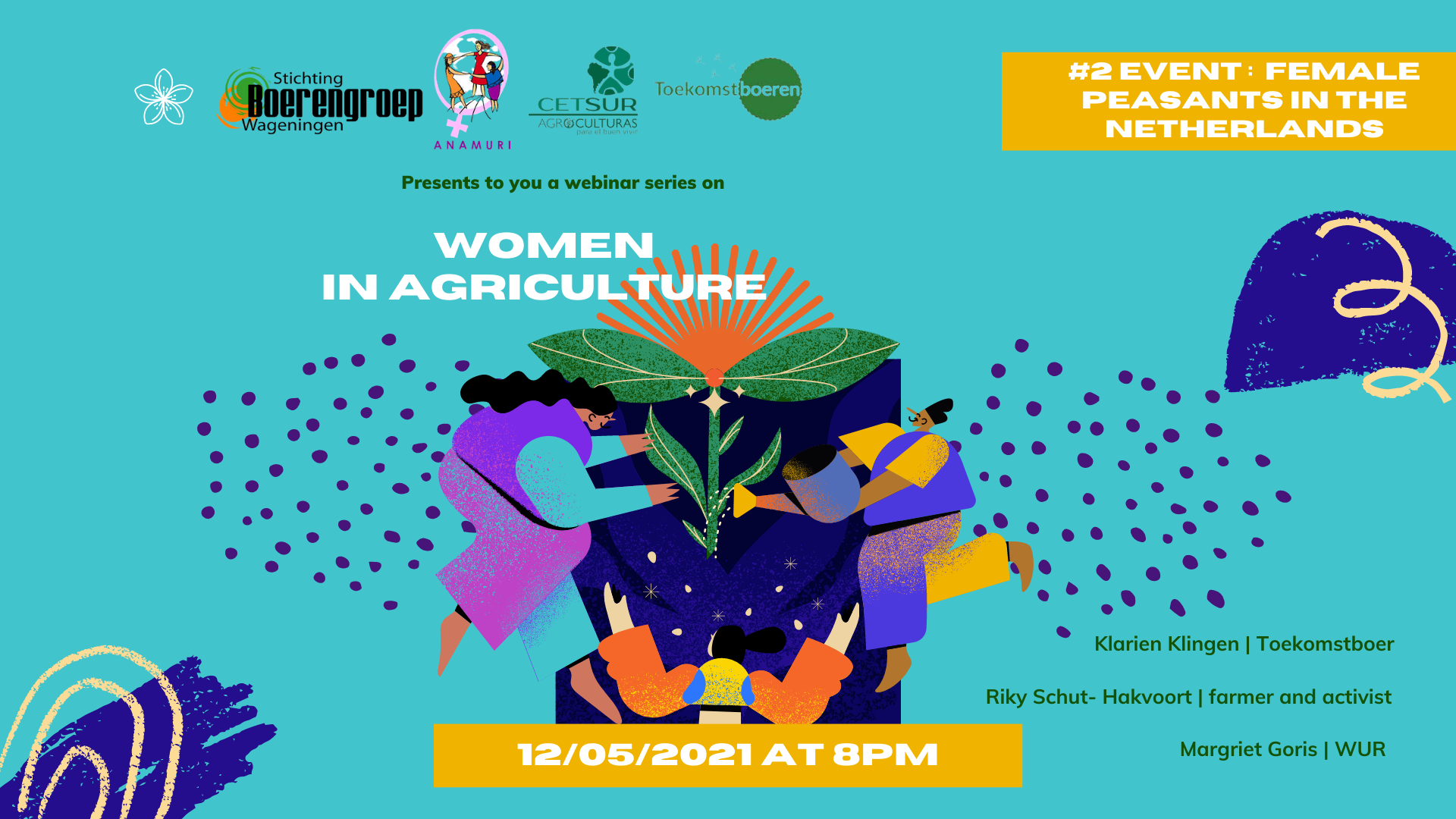 In april-mei presenteert Boerengroep u een webinarreeks over Vrouwen in de Landbouw in Chili (28/04/2021) en Nederland (12/05/2021) om netwerken te verbinden en te praten over de wortels en vruchten van het verzet van boerinnen over de hele wereld.
Over de hele wereld zijn boerinnen het slachtoffer van de globalisering van economische en culturele uitwisselingen als gevolg van de extractieve landbouw. Boerinnen strijden tegen de effecten van dit onderdrukkende voedselsysteem op hun lichaam en land. De strijd van boerinnen gaat onder meer over het recht op land, de autonomie van volkeren en vrouwen, en het recht op zaadoverdracht om voedselsoevereiniteit op te bouwen.
Ter gelegenheid van de 50e verjaardag van de Stichting Boerengroep Wageningen willen we een stem geven aan deze politieke leiders, activisten, onderzoekers en boeren die de hegemoniale orde van de mondiale landbouw en de genderdimensie van moderne macht en kennis veranderen.
Welkom voor onze tweede aflevering op 12 mei. We zullen kijken naar de vrouwelijke boerenstrijd in Nederland, met
Riky Schut-Hakvoort: boerin die belangrijk onderzoek heeft gedaan naar o.a. armoede in de landbouw en de rol van vrouwen, en getuige is geweest van de oprichting van La Via Campesina.
Zij zal worden geïnterviewd door Margriet Goris, eveneens boerendochter en onderzoeker bij de WUR.
Onze tweede spreker is Klarien Klingen, boerin en coördinator van Toekomstboeren, de Nederlandse organisatie die La Via Campesina in Nederland vertegenwoordigt.
Het evenement zal in het Nederlands gesproken worden, vertaald naar het Engels.
Join Zoom Meeting
https://us02web.zoom.us/j/82086734049
——————————————-
In April-May, Boerengroep presents you a webinar series on Women in Agriculture in Chile (28/04/2021) and the Netherlands (12/05/2021) to connect networks and talk about peasant women's roots and fruits of resistance around the world.
All over the world, peasant women are victims of the globalization of economic and cultural exchanges due to extractive agriculture
. Peasant women are fighting against the effects of this oppressive food system on their bodies and lands. The struggles of peasant women concern, among other things, the right to land, the autonomy of peoples and women, and the right to seed transmission to build food sovereignty.
For the 50th anniversary of the Wageningen Peasant Foundation, we want to give voice to these political leaders, activists, researchers, farmers who are transforming the hegemonic order of global agriculture and the gendered nature of modern power and knowledge that invisibilized peasant women's narratives and traditional practices throughout history.
Welcome for our second episode on the 12th of May. We will look into the female peasant struggle in the Netherlands, with
Riky Schut-Hakvoort: farmer who has done important research on poverty in agriculture and the role of women, among other subjects, and witnessed the foundation of La Via Campesina.
She will be interviewed by Margriet Goris, also farmers' daughter and researcher at WUR.
Our second speaker will be Klarien Klingen, farmer and coordinator of Toekomstboeren, the Dutch organization representing La Via Campesina in the Netherlands.
The event will be spoken in Dutch, translated to English.
Join Zoom Meeting
https://us02web.zoom.us/j/82086734049