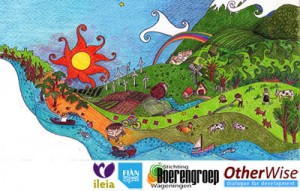 a different logic
The debate rages on the best way to feed the world's growing population. Tonight we explore the principles and practices of concepts such as agro-ecology and food sovereignty as a way forward. With Steve Sherwood (co-founder of Groundswell International a.o.), Jan-Douwe van der Ploeg (professor of Rural Sociology at WUR a.o.), Frank Verhoeven (founder Boerenverstand a.o.), Edith Lammerts van Bueren (chair Scientific committee for integrated sustainable agriculture and food a.o.). Moderator: Sophie Derkzen. Reception afterwards.
when: Friday 12 October at 8pm
where: Forum C222 Droevendaalsesteeg 2 Wageningen
please reserve a seat at www.grassrootsscience.nl
Did you miss it? Here you can view the debate online.