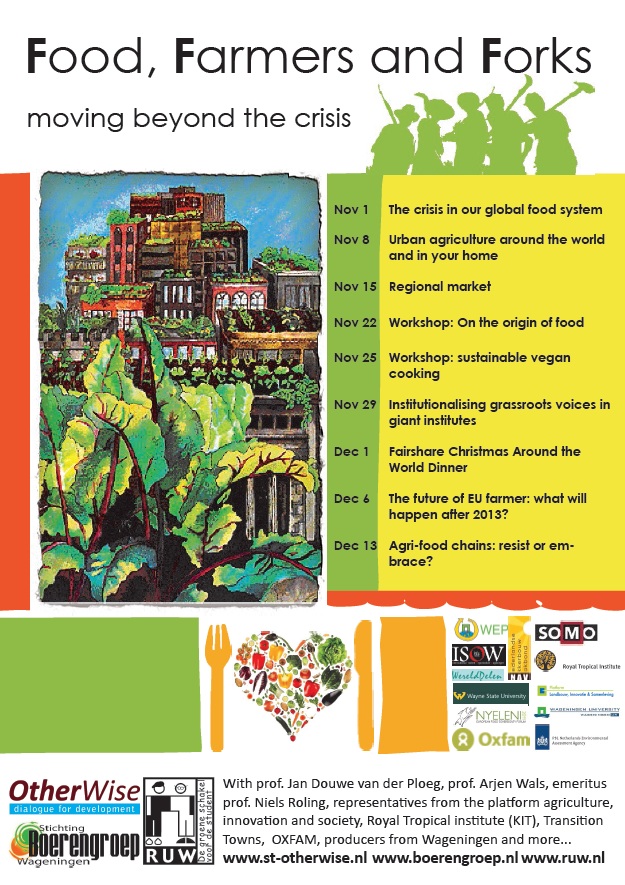 How to feed the world? A question that pops up everywhere. The answer seems to be sought in producing more kg's of food globally. To reduce hunger however, we know that the challenges lie not so much in quantities of food, but rather in maldistribution.
Otherwise, Ruw, and Boerengroep organise seven Tuesdays with alternative views and inspiring examples: from lectures and debates on the future of agriculture in Europe,  lectures of (old and) wise men who say they have figured out how to reform agriculture, workshops, to a Regional Farmers Market.
programme (updated Okt 24)
Date & place
TITLE and PARTICIPANTS
Activity
 Nov 1, 19:30h
Forum C217
  
The crisis in our global food system
Jan Douwe van der Ploeg (Professor of Rural Sociology)
Wouter van der Weijden (Platform Agriculture Innovation and Society)
Gine Zwart (senior policy advisor OXFAM)facilitator: Jessica Milgroom 
  
Lecture
  
Nov 8, 19:30h
Forum C314
  
Urban agriculture around the world and in your home
Fiona Morris & Esther Schoenmaker (Transition Towns Vallei)
Tesfaye Belete (PADet, Ethiopian NGO)
  
  
Lecture
Workshop
Photos
  
Nov 15, 17:30h
Droevendaal Farm
  
Regional market
producers from in and around Wageningen
  
  
Market
Lecture
  
Nov 22, 19:30h
Forum C314
  
On the origin of food
Arjen Wals (Professor of Social Learning and Sustainable Development)
  
  
Workshop
  
Nov 25, 19:30h
ISOW building
  
Workshop sustainable vegan cooking
Marta Dabrowska
  
  
Workshop
  
Nov 29, 19:30h
Forum C314
  
Institutionalising grassroots voices in giant institutions
Niels Röling (Professor Emeritus of Innovation and Communication Studies)
Kami Pothukuchi (Associate Professor, Wayne State University, Dept. of Urban Studies & Planning)
Mariana Wongtschowski (KIT, Royal Tropical Institute)
  
  
Lecture
  
Dec 1, 19:30h
ISOW building
  
Fairshare Christmas around the world Dinner
Stichting werelddelen
  
  
Dinner
Lecture
  
Dec 6, 19:30h
Forum C314
  
The future of the EU farmer: what will happen after 2013?
Henk van Zeijts (PBL, Netherlands Environmental Assessment Agency)
Irma Beusink & Ramona Langanki (representatives of Nyeleni, European food sovereignty forum)
Joop de Koeijer (NAV, Netherlands Arable Farmers' Union)
  
  
Lecture
  
Dec 13, 19:30h
Forum C103
  
Agri-food commodity chains: resist or embrace?
Sanne van der Wal (SOMO, Centre for research on Multinational Corporations)
  
  
Lecture
registration
If you are planning to join one or more of the evenings in the series Food Farmers and Forks, please register here.
locations
Forum: Droevendaalsesteeg 2, Building 102, 6708 PB Wageningen
Droevendaal farm: Kielekampsteeg 32, building 114, 6708 PC Wageningen
ISOW building: Generaal Foulkesweg 1A, 6703 BG Wageningen
capita selecta
Are you enthusiastic about the Food, Farmers and Forks series? Would you like to go more in depth on the topics and receive credits for your efforts? read more
wanted: reporter
The organisation of the series Food Farmers and Forks is looking for volunteers to make short reports (1/2 to 1 A4) en photos reports of the evenings in the series. Are you joining one or more of Food Farmers and Forks and would you like to see your pictures and story at our websites? Please let us know!