Short chains as a way out of the crisis in horticulture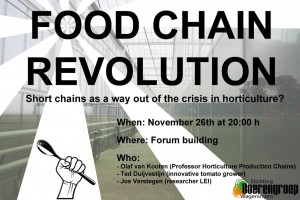 Are short chains through internet the solution to the crisis in horticulture? Professor Horticulture Production Chains Olaf van Kooten is convinced. Many farmers are close to bankruptcy: last year 90% of the companies have booked losses. Van Kooten believes that producers will offer their products through internet directly to both individuals and supermarkets. This reduces the power of the brokering and gives the consumer real choice and more influence on the product. Will this work? And what can be seen as the cause of the crisis? On this evening speakers from different backgrounds will give their opinion on this subject.
With Olaf van Kooten (Professor Horticulture Production Chains at Wageningen UR), Ted Duijvestijn
(sustainable horticulturalist) and Jos Verstegen (researcher LEI and teacher CAH).
When: November 26 at 8pm
Where: C217 in Forum building Wageningen
Register: please send us an e-mail and indicate if you are a non-dutch speaker
You can find the presentations and Olafs movie here.
Voedselketenrevolutie
Korte ketens als uitweg uit de crisis in de glastuinbouw
Zijn korte ketens via internet de oplossing voor de crisis in de glastuinbouw? Hoogleraar tuinbouwketens Olaf van Kooten denkt van wel. Voor veel tuinders dreigt dit jaar faillissement: 90% schreef afgelopen jaar rode cijfers. Volgens Van Kooten zullen producenten via internet hun producten rechtstreeks aan moeten bieden aan zowel individuele burgers als aan supermarkten. Zo wordt de macht van de tussenhandel kleiner en heeft de consument echte keuze en meer invloed op het product. Consumenten kunnen dan eindelijk hun stem laten gelden dat het duurzamer moet. Kan dit werken? Wat is eigenlijk de oorzaak van de huidige crisis? Op deze avond zullen sprekers vanuit verschillende achtergronden hun visie naast elkaar leggen.
Met Olaf van Kooten, Ted Duijvestijn (duurzame glastuinder), en Jos Verstegen (onderzoeker LEI en docent CAH).
Maandag 26 november om 20h in C217 in het Forumgebouw, Wageningen.