Join an exciting evening with professor Kami Pothukuchi from the famous urban agriculture example of Detroit, our own Wageningen emeritus professor in Communication Niels Röling, and Brazilian agronomist with plenty experience in ngo's: Mariana Wongtschowski.
when: Tuesday November 29 at 19:30h
where: Forum building in Wageningen
register: click here to reserve a seat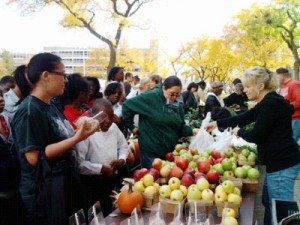 Description:
The global food crisis has been attributed  the exclusion of consumers and farmers in the governance of food and rural development. In this session we will explore how these grassroots voices can be institutionalised in giant institutes such as universities , (inter)national research organizations and policy.
This evening is part of the series Food Farmers and Forks.