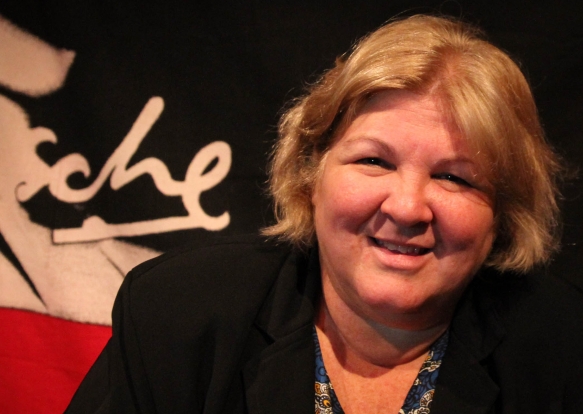 Aleida Guevara, intellectual activist and daughter of Che Guevara, spoke about solidarity, the need to support peasants and indigenous peoples, and the importance of science, last weekend in Belgium.
The different types of knowledge (academic social science, natural science, indigenous knowledge, peasant knowledge from the field) are still quite disconnected at the Wageningen University. Boerengroep believes that food sovereignty can only be achieved when these fields of knowledge are indeed interconnected.
Like Jean-Babtiste Chavannes from Mouvement Paysan Papaye (Haïti) explained:
"When it comes to agroecology, this is something that links peasant agriculture with the knowledge of the ancestors. And then there is scientific research. So we have to combine all this."
More and more people – including students – are losing trust in science, claiming it is becoming too theoretical and disconnected from reality. Yet Aleida Guevara gives a message of hope for all of us at the Wageningen University: Science doesn't have to be disconnected, as is the case in Cuba. She Explains:
"Science is very important for us in Cuba, also regarding agriculture. Do you know when to sow the seeds? Do you? You have to sow seeds in the morning, because then the soil is wet and the seeds will germinate better. This is knowledge we learned from the indigenous people in the north of Ecuador. And that knowledge then becomes the basic of our scientific research. And it is our duty – also of the scientists – that when you learn something, you share this information. (…) And also, we need to identify with the people – that is the only way to show the people that there is an alternative. We cannot expect anything of the people if we cannot give the good example ourselves. Right now we are still using artificial chemicals in agriculture – we need to get rid of them, we want to reach full organic production (…) Lastly, an important note here, is that in Cuba we do not have big industries that buy our scientists, as is sometimes the case in Europe (leading to ambiguous scientific research outcomes – as has been the case at the WUR, examples hier inschrijven of hier inschrijven – as well as unacceptable high salaries paid with our tax money – one argument is that this is needed to keep these people here at the WUR).

So, dear researchers of Wageningen, it is possible to integrate social science, natural science and peasant knowledge, theory and practice, in order to conduct research that benefits society and food sovereignty. If 'we' want to "feed the world", should we not listen to the people who are actually a victim of malnutrition? According to the UN, close to 80 percent of the people suffering from hunger and chronic malnutrition live in rural areas. What is it exactly that these people ask for? Let's hear their voices:
We, more than 500 representatives from more than 80 countries, of organizations of peasants/family farmers, artisanal fisher-folk, indigenous peoples, landless peoples, rural workers, migrants, pastoralists, forest communities, women, youth, consumers, environmental and urban movements have gathered together in the village of Nyéléni in Sélingué, Mali to strengthen a global movement for food sovereignty. We are doing this, brick by brick, have been living in huts constructed by hand in the local tradition, and eating food that is being produced and prepared by the Sélingué community. We give our collective endeavour the name "Nyéléni" as a tribute to and inspiration from a legendary Malian peasant woman who farmed and fed her peoples well.
Most of us are food producers and are ready, able and willing to feed all the world's peoples. Our heritage as food producers is critical to the future of humanity. This is specially so in the case of women and indigenous peoples who are historical creators of knowledge about food and agriculture and are devalued. But this heritage and our capacities to produce healthy, good and abundant food are being threatened and undermined by neo-liberalism and global capitalism. Food sovereignty gives us the hope and power to preserve, recover and build on our food producing knowledge and capacity.
FOOD SOVEREIGNTY is the right of peoples to healthy and culturally appropriate food produced through ecologically sound and sustainable methods, and their right to define their own food and agriculture systems.
It puts the aspirations and needs of those who produce, distribute and consume food at the heart of food systems and policies rather than the demands of markets and corporations. It defends the interests and inclusion of the next generation. It offers a strategy to resist and dismantle the current corporate trade and food regime, and directions for food, farming, pastoral and fisheries systems determined by local producers and users.
Food sovereignty prioritises local and national economies and markten and empowers peasant and family farmer-driven agriculture, artisanal – fishing, pastoralist-led grazing, and food production, distribution and consumption based on environmental, social and economic sustainability.
Food sovereignty promotes transparent trade that guarantees just incomes to all peoples as well as the rights of consumers to control their food and nutrition. It ensures that the rights to use and manage lands, territories, waters, seeds, livestock and biodiversity are in the hands of those of us who produce food.
Food sovereignty implies new social relations free of oppression and inequality between men and women, peoples, racial groups, social and economic classes and generations. – Declaration of Nyéléni, 2007. (Read the full declaration here..)
And last but not least, food sovereignty isn't only about the global south. By spending your money on locally, sesonally produced food from farmers in your own country, you don't spend it on agribusiness (that is: you don't support land grabs, violations of human/peasant rights, deforestation etc.). Giving farmers here a fair price for their produce, will reduce the amount of overproduction that we then dump in the Third World (in the name of 'food aid'). This heavily subsidized, cheap food in fact destroys markets in those countries, since it is impossible for peasants there to produce below this prize – hence they go bankrupt.
Boerengroep is part of the Dutch delegation that will attend the Nyeleni conference in Romania in October. We'll keep you informed!