Kaart niet beschikbaar
Date/Time
Date(s) - 15/09/2022
20:00 - 23:00
Categories
Tractors blocking highways, angry farmers, Dutch flags that are turned upside down, the minister of agriculture resigns and Dutch society seems increasingly polarized around a common chemical compound called nitrogen. What is going on?
Join us for the break if you want to know "What's going on with this Nitrogen Crisis?" this Thursday at 20:00 at Cafe Conder de Linden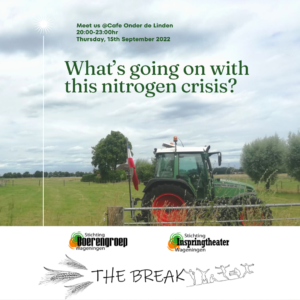 Boerengroep has selected 8 articles plus a podcast and ordered them in themes, so you can get a full grasp of the situation here What's going on with this nitrogen crisis?
But what is the Break?
Every 1st and 3rd Thursday of the month, we meet at Wageningen's Beer Café and Brewery "Onder de Linden", where we share laughs, discussions, and ideas about sustainable agriculture and food systems over some amazing local beer. The breaks are an open and informal way to get to know Boerengroep and Inspringtheater, with no obligations of joining the board, and only friendly happy faces chatting about life and agriculture.