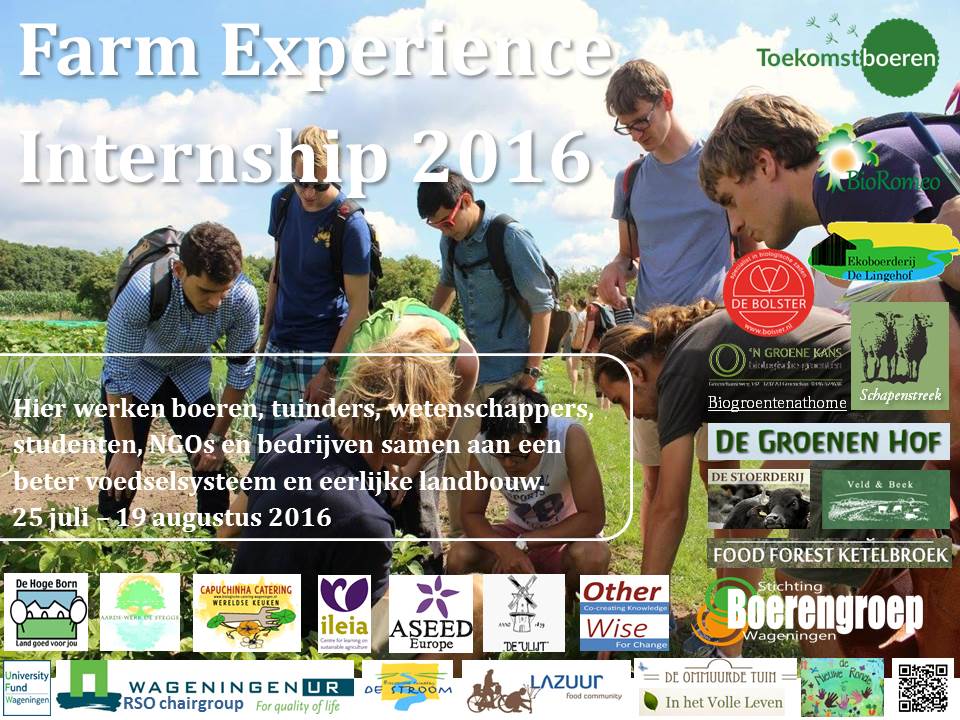 Our international Summercourse is comming up: prepare for Agroecology in Practice! (farmexperienceinternship.wordpress.com)
Prepare for the FEI: 25 Juli – 19 August 2016! Each summer, the Wageningen University is offering the Farm Experience Internship (FEI) for students and non-students. The FEI is a 3ECTS international summer course, which intends to bring together theoretical knowledge from (non-)students with practical skills and knowledge from farmers. Are you interested in growing your own food, discovering local knowledge and practices on organic farms in the Netherlands? Do you want to learn about permaculture, agroecology, food sovereignty and sustainable food systems? Or would you like to interact and discuss with farmers to find creative, innovative ways of farming? Join the FEI and send a mail to FarmExperienceInternship@gmail.com.
Are you having the idea that milk comes from a factory and tomatoes grow underground? No worries, everyone can join – because you will be prepared during the first week, full of lectures, workshops, debates and excursions!
1. VOORBEREIDING – Lezingen, workshops, excursies, groepswerk. During the first phase of the FEI, you will get to know about all kinds of topics related to agriculture, e.g. agroecology, sustainable food systems, food sovereignty, seed patents etc. We cook together and eat together – sharing knowledge, food and have a good time. The preparation week will be held at The Building with the Clock (Generaal Foulkesweg 37, Wageningen) and the schedule is full day.
2. LATEN WE GAAN BOEREN! Praktische ervaring op een Nederlandse boerderij. Na de voorbereidingsweek wordt elke student naar een andere boerderij ergens in Nederland gestuurd. Voor de start van de FEI kun je je voorkeur aangeven, bijv. voedselbos, geitenboerderij, biologische tuin etc. Gedurende twee weken werk je fulltime samen met de boer, volg je zijn/haar werkritme, leer je praktische vaardigheden en lokale kennis. Studenten wordt gevraagd om foto's of een korte video te maken van hun verblijf op de boerderij, die ze later zullen presenteren. De deelnemende boerderijen zijn meestal biologisch, maar sommige zijn nog steeds op zoek naar een meer duurzame bedrijfsvoering (wat erg interessant is voor jou als student: kun je manieren vinden om de boer te ondersteunen?!)
3. EVALUATION. After two weeks harvesting, feeding cows, goats, or making cheese, students will come back to Wageningen for the evaluation phase. Share experience, discuss what you've learned and create the one and only FEI Story Book!
More info: farmexperienceinternship.wordpress.com