Stichting Boerengroep (Farmers Foundation) collects thesis topics, requested from farmers, movements, and students, in order to bridge the gap between theory and practice. PROPOSE A TOPIC. Do you have an interesting topic related to food, farming, agroecological movements etc.? Send us a mail and we'll post it on our site and in our newsletter: st.boerengroep@wur.nl
FIND A TOPIC. Are you a student, looking for a specific topic related to food/soil/agroecology/peasant movements/future farmers or other onderwerpen we are working on? Boerengroep has a broad network around the world! Tell us your interest and we'll try to link you to a contact person. st.boerengroep@wur.nl .

Boerengroep aims to bridge knowledge, experiences, realities and challenges from different actors as a way to strengthen and defend food sovereignty. Find here NGO's, movements, foundations – feel free to contact them for a thesis topic or internship!
After you have a basic idea of the topic you want to research, contact a supervisor from the chairgroup where you have to do your thesis / internship. Explain you have the idea to bridge science and practice with this topic and ask for supervision. Note: with some chairgroups this is easily approved (e.g. RSO, SDC, FSE), while others might have stricter policies. It is also possible to have two supervisors from different chairgroups.
International
Netherlands
France
Belgium
Wervel (Werkgroep voor Rechtvaardige en Verantwoorde Landbouw)
CATAPA supports local communities (campesinos, indigenous peoples) in Latin America and Europe who are threatened by the mining industry.
Avani  is bezig met het ontwikkelden van een lokaal voedselmodel, waarbij 10.000 adressen bediend worden met (h)eerlijke, betaalbare producten van eigen bodem.
Germany
Spain
Portugal
 UK
Italy
Greece
Nea Aгpotikh Kinh εh (NEAK) – New Agricultural Movement of Greece
Austria
Romania
Eco Ruralis – in support of organic and traditional farmers
Denmark
Finland
Norway
Georgia
Elkana – Biological Farming Association
Colombia
Brazil
AS-PTA – Assessoria e Serviços a Projetos em Agricultura Alternativa. AS-PTA's mission is to support capacity building and institutional policies of family farming organisations so that they increasingly assume a leading role in the formulation and defense of rural development patterns that combine social equity, economic viability and conservation of environmental resources. Read their magazine online
Cuba
Asociación Nacional de Agricultores Pequeños (National Association of Small Farmers)
Comités de Defensa de la Revolución (Committees for the Defense of the Revolution)
Central de Trabajadores de Cuba (National Labor Trade Union of Cuba)
Federación de Mujeres Cubanas (Federation of Cuban Women)
Movimiento Cubano por la Paz y la Soberanía de los Pueblos (Cuban Movement for Peace and Sovereignty of the Peoples)
Instituto Cubano de Amistad con los Pueblos (Cuban Institute of Friendship with the Peoples)
Red En Defensa de la Humanidad-Cuba (Network In Defense of Humanity – Cuba)
Unión de Jóvenes Comunistas (Union of Young Communists)
Federación Estudiantil Universitaria (University Students' Federation)
Organización Continental Latinoamericana y Caribeña de Estudiantes (Latin American and Caribbean Continental Students' Organization)
Organización de Solidaridad de los Pueblos de África, Asia y América Latina (Organization of Solidarity of the Peoples of Africa, Asia and Latin America)
USA
Agriculture
Access to Land
Right of Indigenous Peoples:
AgroBiodiversity
ArcheNoah
Bingenheimer Satgut
Stichting Zaadgoed
Chain
Biokennis
Social Trade Organisation
Stichting Hemmens Land
Sustainable Living
Ecovillage Design Education
Vereniging Aardehuis
Society
Milieudefensie
Both Ends
Stichting Alert
Transition Towns
X min Y
Studium Generale
NGOs
ASEED Europe
De Nieuwe Tuin
Land Grabbing
Nederlandse Akkerbouw Vakbond (NAV)
Werkgroep Landbouw en Inkomen
Werkgroep voor een Rechtvaardige en Verantwoorde Landbouw (WERVEL)
Training & Education
PTC+
Wageningen UR
Farm Experience Internship (FEI), Wageningen university
Warmonderhof, school for bio dynamic farming/gardening
Food
Info for Social Movements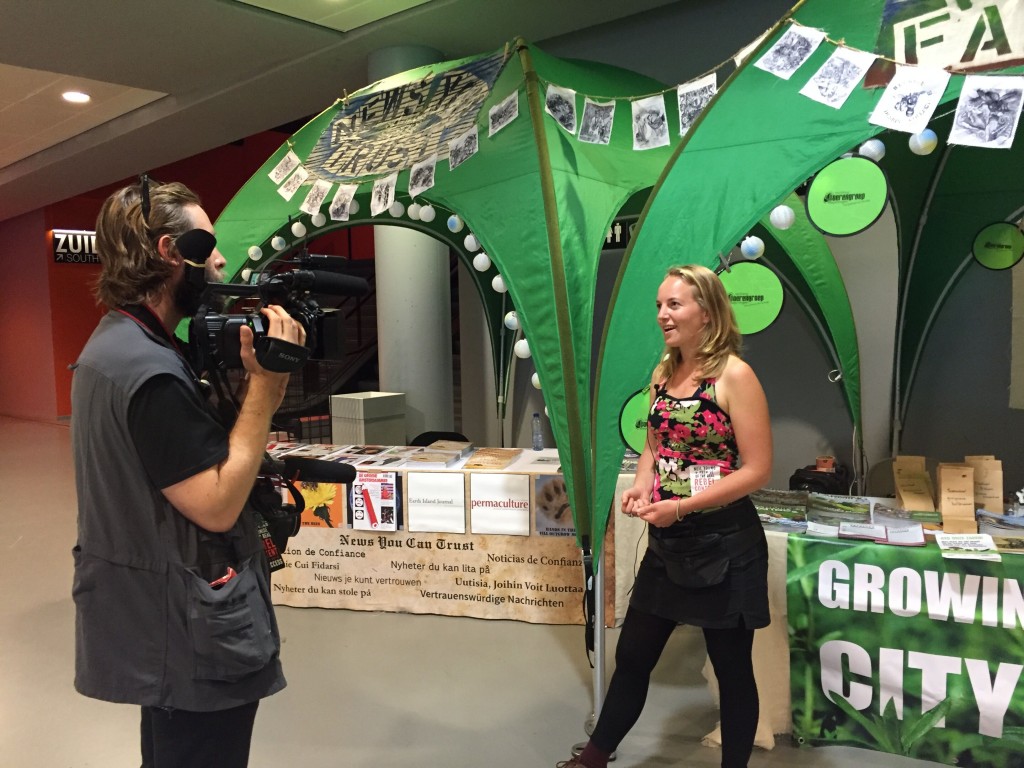 Boerengroep at the 'Activist Village' of Neil Young, during his tour "The Monsanto Years", July 2016, Ziggo Dome.