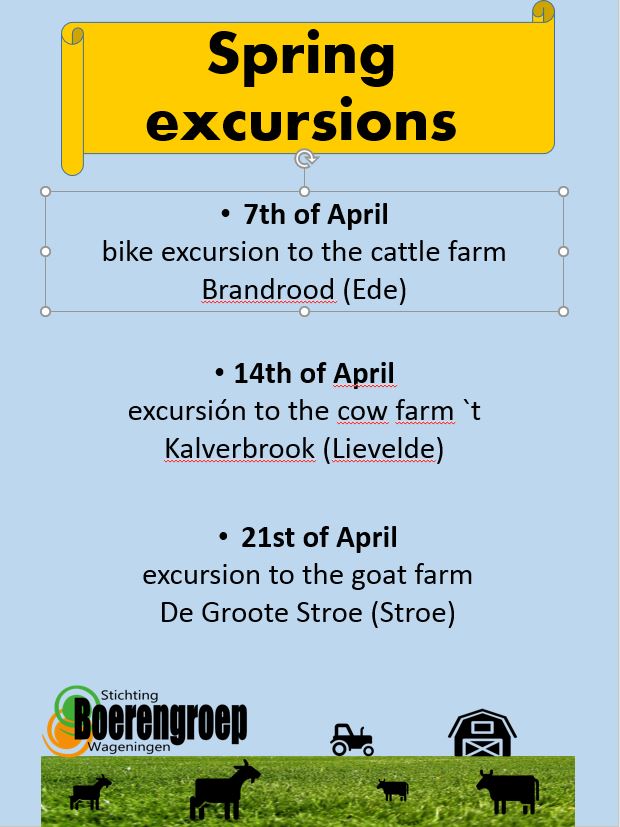 Spring officially started and the first flowers are popping up, excellent start thinking about going outside again and joining our spring excursions.
In April we'll have 3 Spring excursions: the first will be on the 7th of April and will be to the Brandrood cattle farm in Ede, the second will be on the 14th of April and will go to 't Klaverbrook, dairy farm of a Wageningen student who loves to show you his place and the third will be on the 21st of April to the goat farm de Groote Stroe in Stroe.
Join us, subscribe now!
#1 Brandrood, Ede
This farm's name refers to its cow race: ''Brandrood'', with a reddish colour. But there are some donkeys, sheep, chicken, cats, horses and goats around too.. a true animal party. At the farm you will have the possibility to discuss with the farmers about their ways of farming. Interesting questions to discover: How they go about the new phosphate regulations in the Netherlands? How do they make, market, sell their cheese? Why did they choose for this type of cows? How is it to be a 'small-farmer'?
We will go to this farm by bike, it is a lovely ride through the nature area around Wageningen. Cheese tasting is included and we suggest you to bring some food, so we can have a picknick before biking back to Wageningen.
7th of April Excursion to Brandrood  (€3,-)
See fb event and / or subscribe via this form
#2 'T Kalverbrook, Lievelde
More info follows soon!
14th of April Excursion to 't Klaverbrook (€5,-)
See fb event and / or subscribe via this form
#3 De Groote Stroe, Stroe
De Groote Stroe is a biological goat farm about half an hour drive from Wageningen. The farmers really developed their own way of farming according to the ritmes of the goats, for example they keep the lambs under the mothers. Get an impression of the farm by watching this video (in Dutch only).https://binnenstebuiten.kro-ncrv.nl/fragmenten/gepassioneerde-geitenhouders
They make very tasty cheese which you can buy amongst others at www.kardoen.nl in Bennekom or at the Boerenmarkt in Utrecht. So come along to this farm, meet the goats, and ask all your questions to the farmers. Cheese tasting will be included.
And bring some food for a small pcknick-lunch in the grass 😀
21st of April Excursion to De Groote Stroe (€5,-)
See fb event and / or  subscribe via this form