building on own knowledge and resources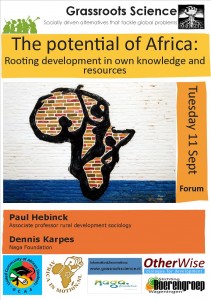 Africa has a rich resource base in terms of both human and natural resouces. These are however rarely used for the development of the African continent. Instead biased trade agreements allow for the export of minerals to feed European industries, European subsidised food and processed goods are increasingly dumped in Africa and development interventions focus on the transfer of inappropriate blueprints and technologies. The outcomes have been the so called "natural resource curse", the suffering of local producers and processors and failed development interventions.
During this evening, organised together with Africa in Motion (AIM) and the United Community of African Students (UCAS), inspiring visions and cases that build on local, rather than external, resources and knowledge will be presented. Lectures by Paul Hebinck (Associate professor rural development sociology) and Denis Karpes (Naga Foundation).
Time: Tuesday September 11 at 19:30
Place: Forum building Wageningen
Register: please click here to reserve a seat
This lecture is part of this new seasons Grassroots Sciences series