Op 18 en 19 maart 2023 organiseert Fruittuin van West de volgende Reclaim the Seeds zadenbeurs. Twee dagen is er een zadenmarkt met zaden en zaailingen, knollen en entmateriaal voor liefhebbers van gezonde en gevarieerde gewassen voor tuin, balkon of groter project. Iedereen is van harte welkom om zaden te komen kopen, ruilen of weggeven. Op de markt zijn ook boeken en andere publicaties verkrijgbaar, naast producten van eigen teelt en uiteraard hapjes en drankjes.
Op beide dagen is er een programma met workshops, muziek en rondleidingen in de Fruittuin van West, waar stadslandbouw en duurzame ontwikkeling hand in hand gaan.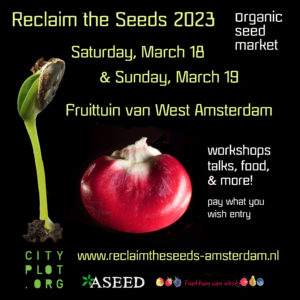 Duurzaam voedsel begint bij diversiteit. De immense soortenrijkdom van landbouwzaden is van onschatbare waarde voor klimaatbestendige landbouw en de toekomst van ons voedsel. Maar buiten beeld slokken agrarische monsterbedrijven stilletjes de hele zadenmarkt op – dat hindert de vrije toegang tot zaden, zodat er steeds minder te kiezen is. Gelukkig kan iedereen een bijdrage leveren aan het springlevend houden van zadenrijkdom. Kom naar Reclaim the Seeds 2023 en laat je inspireren.
Rebel against Seed Extinction!
Zaterdag 18 maart: 10:30 – 17:30
Zondag 19 maart: 10:30 – 19:00
Fruittuin van West
Tom Schreursweg 48
1067 MC Amsterdam
Meer informatie: