Food for All!
At the Regional Market you can taste local cheese, meat, vegetables, bread, honey, juice, and beer. Did you know that all these products are grown in Wageningen and around? With music, discussion, local producers, farmers and more.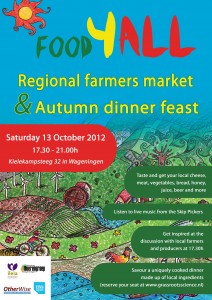 The Regional Market is part of Food for All Festival, which addresses social justice and sustainable alternatives. Invite your friends to also join the regional market. If you want to eat at the market, you are most welcome join the Fair Share Dinner: please reserve your meal (€8, made of ingredients of farmers present at the market) at www.grassrootsscience.nl
Saturday October 13, from 5:30 to 9pm.
Kielekampsteeg 32 in Wageningen.
At 5:30pm open discussion: How to build a food community? with Inno Kock (Buys&Co)
Boeren Streekmarkt: Food for All!
Op de derde editie van de Boeren Streekmarkt vindt u producten uit Wageningen en omgeving: soep, kaas, friet, brood, vlees, eieren, groente, honing, sap, thee, noem maar op. Met een Wagenings biertje luistert u naar sfeervolle country van lokale band de Skip Pickers en kunt u direct van de producten van de markt genieten. Avondeten op de markt kan door te reserveren voor het Fair Share Dinner: voor €8 krijgt u een maaltijd gemaakt van ingredienten van boeren op de markt. Reserveren op
www.grassrootsscience.nl
Zaterdag 13 oktober van 17:30 tot 21 uur.

Kielekampsteeg 32 in Wageningen
.
Neem vrienden mee
!
Om 17:30 vindt een open discussie plaats met als titel
How to build a food community?
met Inno Kock (
Buys&Co
)