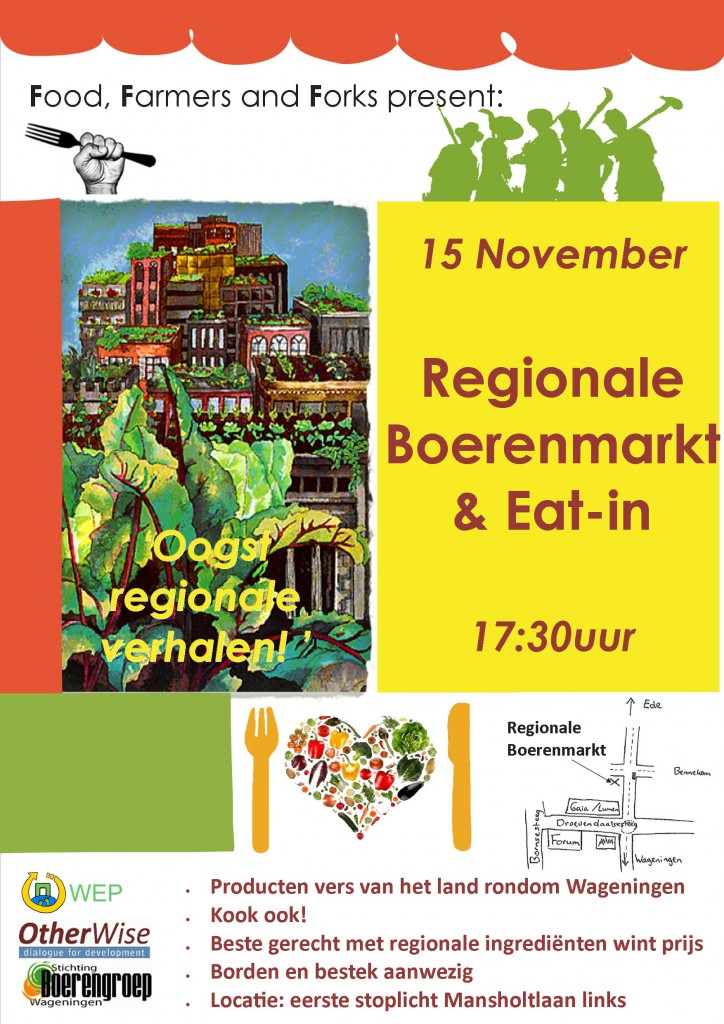 Op dinsdag 15 november is op proefboerderij Droevendaal de Regionale Boerenmarkt. De Boerengroep organiseert deze markt samen met Stichting Otherwise en Wageningen Environmental Platform (WEP). Doel is om te laten zien hoeveel lekkers wordt geproduceerd in de directe omgeving. U vindt kraampjes met honing, kaas, vlees, melk en eieren, maar ook appels en perensap, groente, en zelfs wijn en thee, allemaal uit de buurt.
Onderdeel van de Regionale Boerenmarkt is de Eat-in wedstrijd "dont be a couch potato!". U kunt meedoen door het koken van een maaltijd met streekproducten.
Verder worden bijzondere initatieven (kort) gepresenteerd: CC2, De Nieuwe Ronde, Organic Village, en Wageningse Weelde uit Wageningen, G.A.S. uit Italie, "Fun on the Farm" uit China, Versvoko, en meer.
Life muziek van de Skippickers, lange houten tafels met kaarslicht, en de grote boerenschuur maken het tot een sfeervol informeel gebeuren. Dé plek om met boeren te praten of gewoon gezellig met vrienden of familie te komen eten.
Tijd: dinsdag 15 november vanaf 17:30uur
Plaats: Kielekampsteeg 32 (linksaf bij de eerste stoplichten op de grote weg naar Ede)