Consument aan het roer
(Msc thesis of ACT onderwerp)
De consumenten coöperatie CC² wil consumenten meer stem geven in het regional aanbod van duurzaam voedsel. Op verzoek van de consumenten coöperatie wordt een onderzoek uitgevoerd naar de toegevoegde waarde van Buys & Ko en draagvlak voor regionalevoedsel strategieën onder consumenten en potentiele consumenten. Daarvoor zoeken wij studenten geïnteresseerd in onderzoek doen met een direct maatschappelijke impact en geïnteresseerd in thema's als nieuwe organisatiemechanismen van consumenten, duurzaam voedsel strategieën en consumentengedrag. Lees meer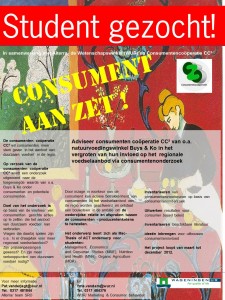 The Rural Sociology Group is looking for a master student who is willing to do his/her thesis in the north of the Netherlands and is interested in art, landscape and population. Read More
Next period the course Understanding Rural Development starts again!
On March 12th 2012 the Rural sociology Course Understanding Rural Development starts. There is still room for new students to attend this course.
The course aims to provide a theoretical, empirical and methodological understanding of rural and regional development processes in Europe, with emphasis on agro-food, rural and regional dynamics in metropolitan landscapes. It builds upon several BSc and MSc courses, such as Agrarian and Rural Development: Sociological Perspectives (RSO-20806), Sociology of Farming and Rural Life (RSO-30806), Sociological Theories of Rural Transformation (RDS-30306), Globalisation and Sustainability of Food Production and Consumption (ENP-31806) and Sociology in Development: Towards a Critical Perspective (RDS-32806).
This course will, on the one hand, integrate themes and topics as well as theoretical concepts and perspectives of these courses, and on the other hand elaborate on topics (empirically and theoretically) such as multifunctional rural entrepreneurship in metropolitan regions, urban-rural relations, urban food production and urban food provision, regional differentiation processes, territorial and place-based development paths and regional branding. By presenting and discussing recently completed and on-going research projects a wide range of research methodologies will be introduced. As such this course acquaints students with the most important scientific theoretical perspectives and paradigms of agro-food dynamics and rural and regional transformation processes and their social, political and academic context.
For more information: please contact lummina.horlings@wur.nl