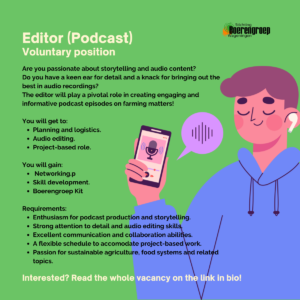 Editor – Voluntary Position (Podcast Team)
Role Description:
Overview:
Are you passionate about storytelling and audio content? Do you have a keen ear for detail and a knack for bringing out the best in audio recordings? If so, we have an exciting opportunity for you! We are seeking an Editor to join our Podcast Team and play a pivotal role in creating engaging and informative podcast episodes.
Responsibilities:
Planning and Logistics: Collaborate with the Podcast Manager to plan episode recordings, decide on recording dates, and contact guests or contributors as needed.
Audio Editing: Edit audio content to ensure high-quality and engaging podcast episodes. This includes removing background noise, enhancing audio clarity, and making creative edits to improve the overall listening experience.
Project-Based Role: This role is project-based, with responsibilities varying by episode. You'll work on editing specific episodes as they come in, so there's no fixed weekly time commitment.
What You'll Gain:
Networking: Connect with a dynamic and passionate podcast team, guests, and contributors, expanding your network in the world of audio content creation.
Skill Development: Enhance your audio editing skills and gain valuable experience in podcast production.
Boerengroep Kit: As a token of our appreciation, you'll receive a Boerengroep hoodie, merchandise, and seeds to support your gardening endeavors.
Requirements:
Enthusiasm for podcast production and storytelling.
Strong attention to detail and audio editing skills.
Excellent communication and collaboration abilities.
A flexible schedule to accommodate project-based work.
Passion for sustainable agriculture, food systems, and related topics is a plus.
Join Us:
If you're ready to make a meaningful contribution to our podcast team, expand your skills, and become part of a vibrant community, we'd love to hear from you!